NE1 Ltd's Geordie Jackpot, the local lottery for the North East teamed up with Metro Radio's Cash for Kids to deliver two exclusive Superhero Film Screenings for sick and disadvantaged children in Newcastle. The event was held on Sunday 12 May at the Tyneside Cinema attended by extra special guests, four Superhero characters.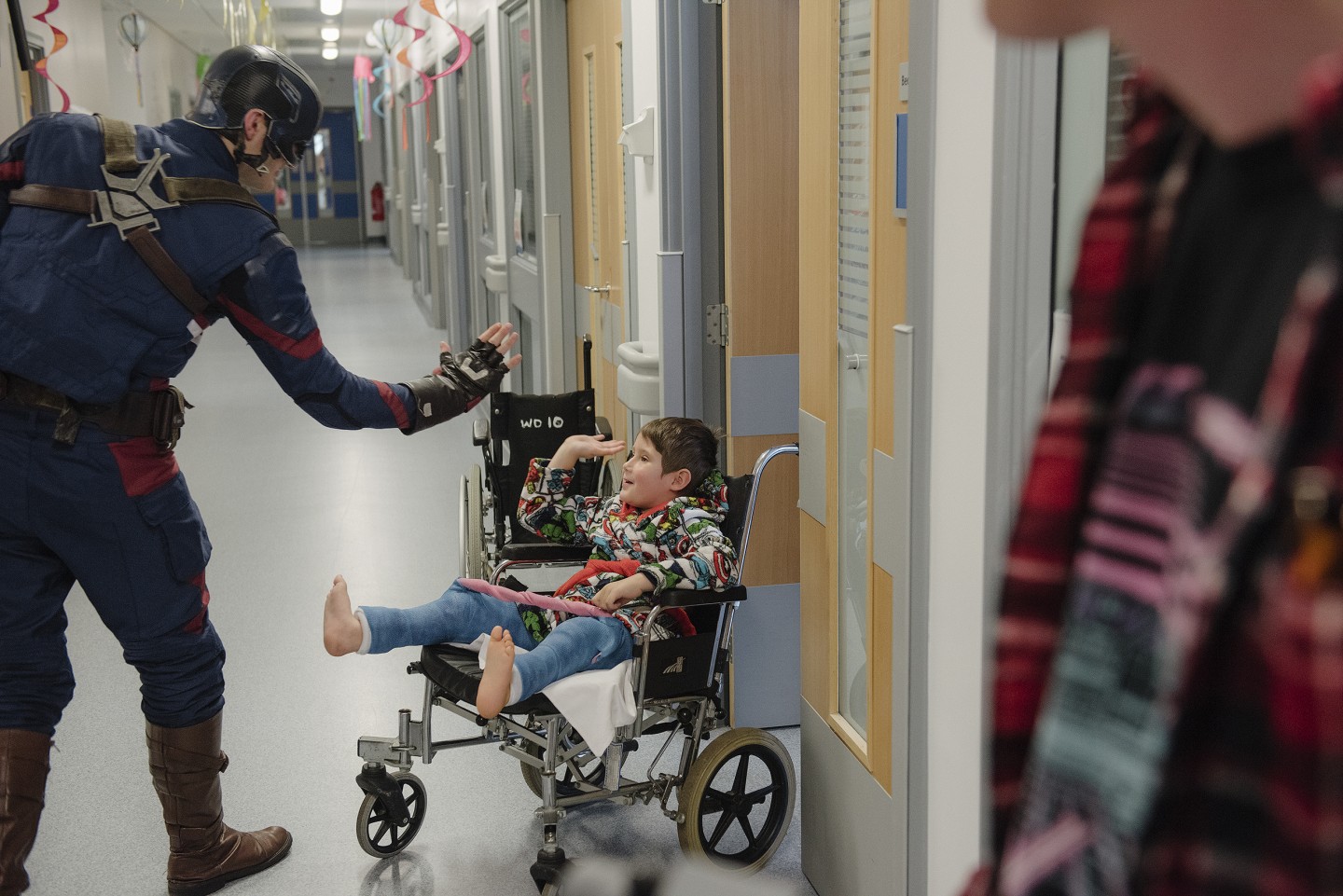 Invited audiences of 240 children, their families and carers, many of whom are receiving treatment or care at the Great North Children's hospital, were invited to two VIP, exclusive film screenings of the film, the Incredibles 2 at the Tyneside Cinema.
NE1's Geordie Jackpot paid for the cinema takeover at the Tyneside and worked closely with the cinema and with Cash for Kids to package the events with some extra special touches that made it a memorable day for the VIP guests.
Among the extra touches were guest appearances by four superheroes Iron Man, Captain America, Super Girl and Mrs Incredible aka Elastigirl, the latter guest tied in nicely with the screening of the film, 'Incredibles 2' at the Tyneside. Each VIP guest received a special souvenir ticket and the children saw their names on the big screen as all the young guests were listed in the on-screen credits as a welcome to the cinema and to the event.
After greeting the audiences at the Tyneside, the superhero characters made a private visit to the children's wards at the Great North Children's Hospital to meet the children and to have their photographs taken.
The Superhero Screening event was devised by NE1 Ltd's Geordie Jackpot in conjunction with Cash for Kids who manage the allocation of Geordie Jackpot grants. The event was designed to dovetail with Cash for Kids' Superhero day on Friday 10 May when businesses and individuals across the North East were encouraged to don their capes and raise money and awareness for Cash for Kids.
Dan Slee, Charity Manager from Cash for Kids said:
"NE1 Ltd's Geordie Jackpot brought together different parties to deliver a really impactful and memorable fun event for children who are facing life threatening or life-limiting illnesses, their close family, friends and carers.
"The response to the film screenings has been heart warming. Within days of issuing the invitations, the screenings were full with tickets for the Tyneside given to children who are able to leave hospital and to other groups including those supporting children in foster care or who are being looked after by grandparents."
Adrian Waddell, Chief Executive of NE1 Ltd said:
"NE1's Geordie Jackpot is delighted to have worked with Cash for Kids and the Tyneside Cinema to run this Superhero Screening day – it is a great example of what the Geordie Jackpot can deliver for the good of sick and disadvantaged children in the North East. Events like this help to showcase all the good that comes from buying a ticket for the local lottery. Good deeds done locally thanks to the generosity of Geordie Jackpot players."
"The superhero screening day was a new idea and we have been overwhelmed by the response from the invited guests and from the partners who we worked with to deliver the event. Not every superhero wears a cape and we would encourage the public to be a local hero by buying tickets for the Geordie Jackpot."
Jane Melvin, Directorate Manager, Great North Children's Hospital said:
"Naturally, we think all of our patients are superheroes but it's great that they'll get the opportunity to meet some of their favourite characters on our children's ward."
To support NE1's Geordie Jackpot to provide on-going help and support for disadvantaged children in the North East and to help carry out city centre improvements – people can buy tickets at www.geordiejackpot.co.uk