NE1's Geordie Jackpot has teamed up with the Great North Children's Hospital Foundation to create a Winter Wonderland in the heart of the Royal Victoria Infirmary. Equipped with festive lights and huge Christmas decorations, the immersive Christmas experience will be enjoyed by young patients and visitors to the hospital across the festive season.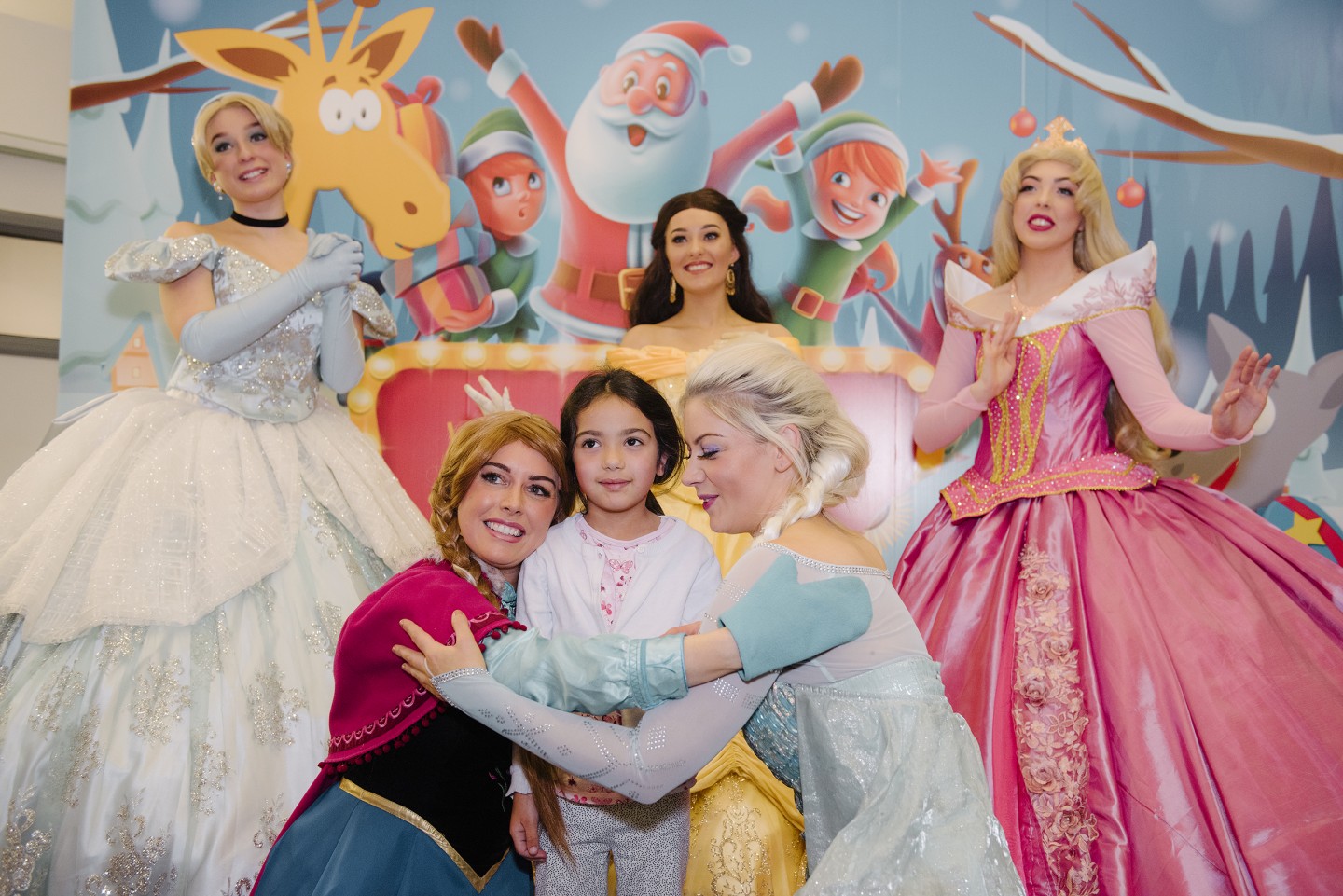 Thanks to the generosity of regular Geordie Jackpot players, NE1 and the Great North Children's Hospital Foundation a Winter Wonderland has been created in a courtyard at the centre of the hospital that has thousands of patients, staff and visitors passing by each day.
The aim of the display is to bring festive cheer to the hospital over the Christmas period. A grand unveiling of the installation was carried out this week with the help of Cash for Kids, Metro Radio and five Disney princesses who added a little extra sparkle to the event.
With Elsa and Anna from Frozen on hand, there was the chance for a 'Let it Go' Sing-a-Long - enjoyed as much by the adults as the children. Many of the young patients enjoyed meeting the princesses and posed for photographs with them. Father Christmas even came along to meet the children, before starting a ten-second countdown to the Christmas lights switch on.
Jane Melvin, directorate manager of children's services at Newcastle Hospitals said: "It was lovely to see so many of our young patients enjoy the big switch on of our winter wonderland. It was an idea championed by Marie Samuels one of our wonderful play specialists and we're so grateful to everyone at NE1, Geordie Jackpot, Cash for Kids and our own Great North Children's Hospital Foundation for helping to make it all possible.
"Being in hospital over Christmas is never easy especially for children and their families but we hope our winter wonderland can help to bring a little bit of festive cheer not only to our young patients at the Great North Children's Hospital but to anyone visiting the RVI over Christmas."
The Winter Wonderland will remain in place throughout December.
This is the latest city centre enhancement funded by the generosity of local lottery players of the Geordie Jackpot, which donates 10% of its ticket sales to Cash for Kids.
NE1, which manages the Geordie Jackpot, hopes to make more announcements in the New Year on what is planned for the money raised from the local, charity lottery.
Background Facts on NE1's Geordie Jackpot
· Launched in 2017
· 113 draws
· 1844 Winners
· Over £55K prize money given away as Cash Prizes to Geordie Jackpot supporters.
· 82 winners have yet to claim their prizes
· Over £15k donated to Cash for Kids
The Geordie Jackpot gives the people of Newcastle the chance to help the city and others with proceeds from ticket sales going to city centre projects and Cash for Kids, with the chance for players to win up to £25,000 in the weekly lottery.
To buy tickets visit www.geordiejackpot.co.uk