Northumberland Street in Newcastle is being given a green make-over this summer. It is all part of a transformation aimed at creating a village green style area in the heart of the city's traditional retail heartland – helping to make it fun for families and improve the area for people who live, work in and visit the city centre.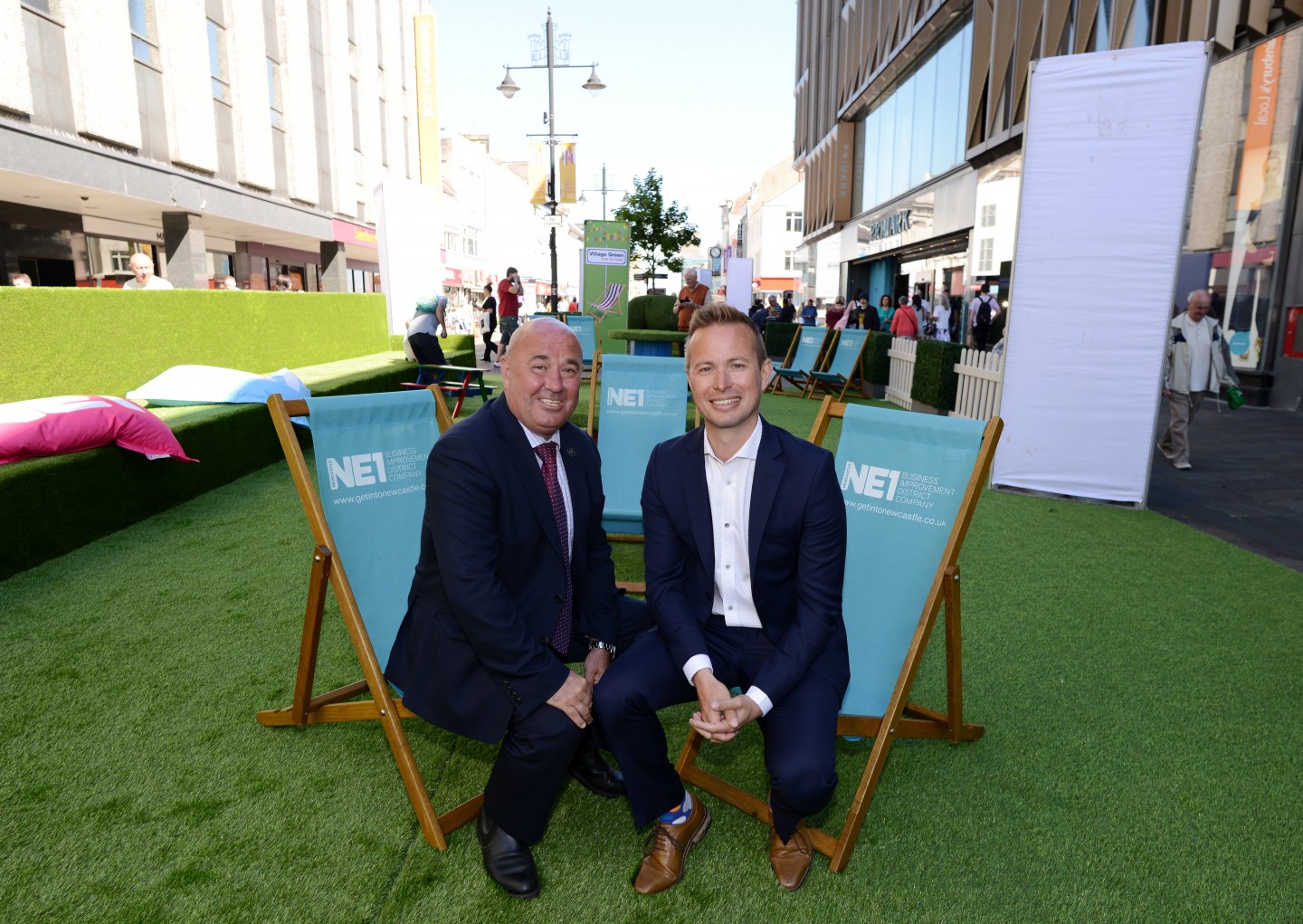 It is part of wider investment plans, led by Newcastle City Council and NE1 Ltd, to bring new attractions and activities to Northumberland Street and its side streets in order to boost the economy and help tackle wider pressures on traditional retail.
NE1 Ltd worked overnight this week to install the temporary summer park, which will remain in place until October. The transformation includes laying approximately 1,000 square foot of artificial grass running from Primark to McDonalds; installing what is believed to be the UK's largest sofa covered in artificial turf and a life-size artificial Rhino.
The final installation will be unveiled on Friday 6 July in time for another busy weekend in the city and to coincide with the 2nd weekend closure and greening of Blackett Street, which will again see the whole of Blackett Street closed to traffic and converted into a picket fenced park equipped with games, fair ground rides and seating.
The Northumberland Street installations are similarly designed to make the area more people-focussed and family-friendly and encourage the area to be used in different ways. The efforts are part of a wider collaboration between NE1 Ltd and Newcastle City Council to deliver permanent improvements to Northumberland Street and it's side streets.
Other new additions will include the creation of Parklets, small pocket parks, on Ridley Place.
Commenting on the Northumberland Street greening, Adrian Waddell, Chief Executive of NE1 said:
"NE1, together with Newcastle City Council, is committed to improving the fortunes of Northumberland Street and the surrounding area making it a far more pleasant place to visit and to spend time. This is the first phase of a long-term plan for the area. It is fantastic to get started on these short-term transformations that will make an immediate impact and encourage people to see and use the area in a different way. We are particularly keen to create a more engaging street environment that enables different types of use and is more attractive to a wider audience. The summer time greening trials will give an insight into what works well in the area and will link with our family fun weekend activities on Blackett Street and will be complimented with further installations on Northumberland Street over the course of the summer."
Cllr Ged Bell, cabinet member for employment at Newcastle City Council, said: "Newcastle is growing, changing and investing in tomorrow. We want to create a transformed city centre, where businesses can thrive and where residents and visitors want to spend time.
"Northumberland Street has the potential to be one of the best shopping, leisure and cultural destinations in the country and the city council has committed £3.2m of investment into in this and surrounding streets to help achieve this ambition.
"These summer installations, which include fun areas for families, new seating and green spaces, are the first step in looking at how people might make better use of the spaces.
"We've already seen how popular the family park area on Blackett Street is after just one weekend and we hope that the summer village greens on Northumberland Street will also give people another reason to enjoy Newcastle and encourage them to spend more time here.
"Ultimately what we want to do is create the spark that ignites the further investment needed to deliver the property development and public realm improvements which are needed as part of our longer-term ambitions for job creation and the transformation of the city's retail heart."
In November 2017, Newcastle City Council approved £3.2m funding for initial changes, including the interactive installations, and agreed to test these with the public to inform how the area can be improved in the longer term. The first phase of funding comes from income from the Northumberland Street advertising screen and capital income sources.