One of the UK's most popular pop up beaches, Quayside Seaside in Newcastle, will be making a welcome return to the banks of the Tyne earlier than ever this year, at the start of the Easter Holidays on Friday 7 April.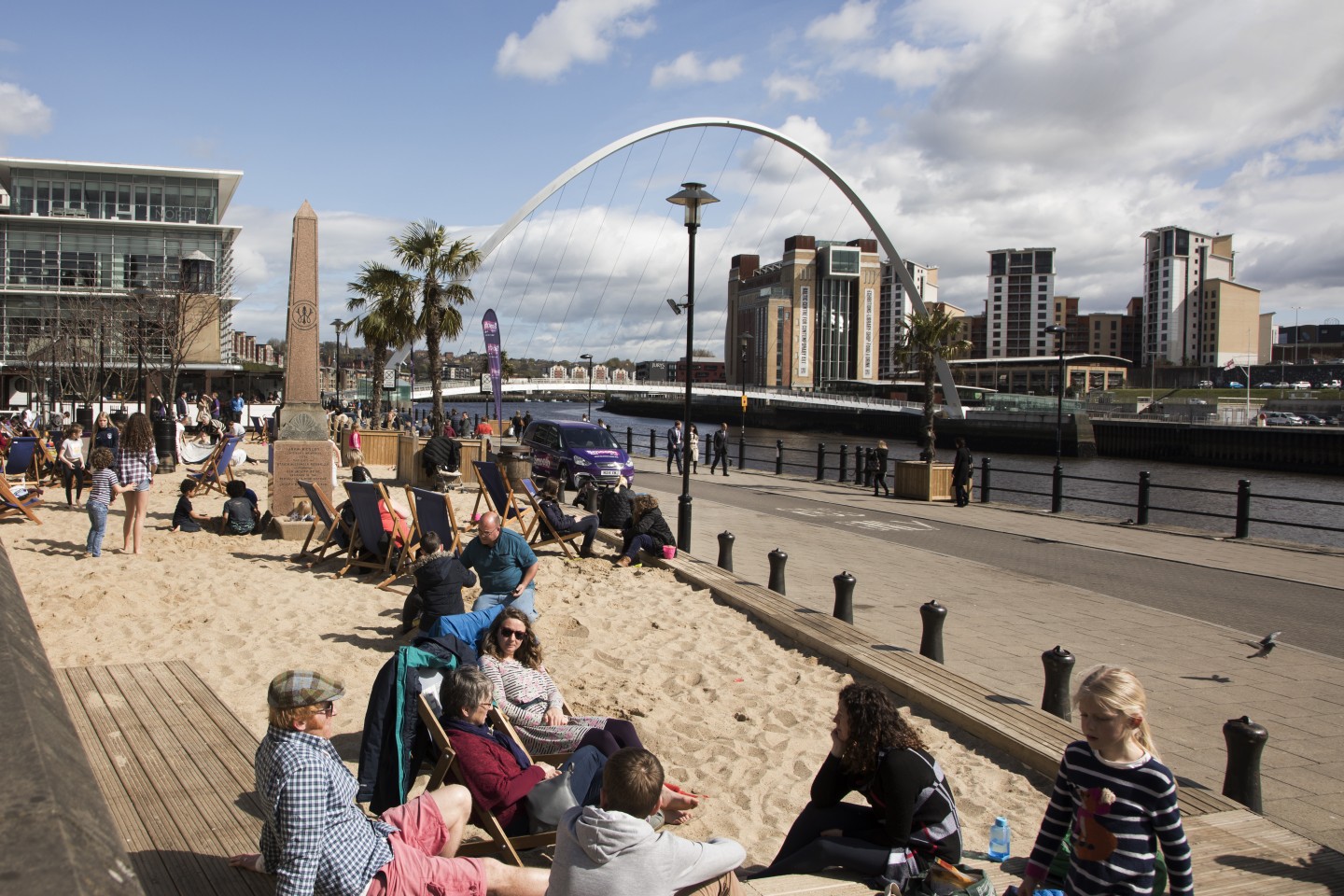 For the 6th year running, the beach will be unveiled in all its sandy glory equipped with candy striped beach huts, palm trees, deck chairs and buckets and spades. Nestled between two of the city's iconic bridges, the Tyne and the Millennium bridges, the pop up beach has been a firm summertime fixture in Newcastle's events calendar signalling the start of the spring/summer.
This year, Thomas Cook Airlines, Europe 2016's leading Charter Airline, is sponsoring the Quayside Seaside and to celebrate will be organising a programme of fun family activities throughout the summer.
Last year Riley's fish shack, which featured in Channel 4's 'Hidden Restaurants' took up residency on the Thomas Cook Airlines' Quayside Seaside in a beach restaurant fashioned from two converted shipping containers fitted with a wood burning stove and a charcoal grill. The team have handed over the kitchen reins to Barrio Comida, a Mexican inspired restaurant that is winning plaudits from critics and diners and will be serving up a menu of fresh tacos from Wednesday to Sunday each week.
Thomas Cook Airlines' Quayside Seaside attracts thousands of visitors each year come rain or shine. Last year an estimated 500k people enjoyed the beach which offers a fabulous vantage point to enjoy the views of Newcastle's internationally famous Quayside including the majestic architecture, the Sage, Baltic and the bridges.
The pop up beach offers a great location to watch events that take place in and around the Quayside including the University Boat Race which this year will be held on Saturday 6 May, the Great North Run and all its associated celebrations, City Games and the Great North 10k Run.
Tariq Albassam, Operations Manager at NE1 Ltd said:
"The Thomas Cook Airlines' Quayside Seaside is hugely popular with Newcastle residents and with visitors to the city. Each year, we get inundated with people asking when the beach is returning and this year, we're delighted to say we are bringing it back earlier than ever.
"NE1 is keen to create events and activities that give people more reasons to visit Newcastle and to stay a little longer. The Thomas Cook Airlines' Quayside Seaside is a fun, free, family friendly addition to what is already a wonderful city. The beach provides a well placed stopping point to allow people to enjoy the Quayside and to have fun on a sandy beach in the heart of the city.'
Leon McQuaid Aviation Development Manager at Newcastle Airport said:
"The Quayside Seaside has become somewhat of an iconic venue in Newcastle over recent years and we are delighted to see one of our airline partners show their support.
"We work very closely with Thomas Cook Airlines and their presence throughout the Quayside Seaside will no doubt help them to engage further and to showcase the exciting range of destinations they have available from the airport."
A timetable of all activities on Thomas Cook Airlines' Quayside Seaside throughout the summer will be published on www.getintonewcastle.co.uk