Tomorrow, Thursday 27 June, the city of Newcastle is being encouraged to get behind the Lionesses and cheer on the England Women's football team as they take on Norway in the Fifa Women's World Cup Quarter Final. The match will be screened from 7.30pm – 10pm on NE1 Ltd's big open-air screen at Old Eldon Square.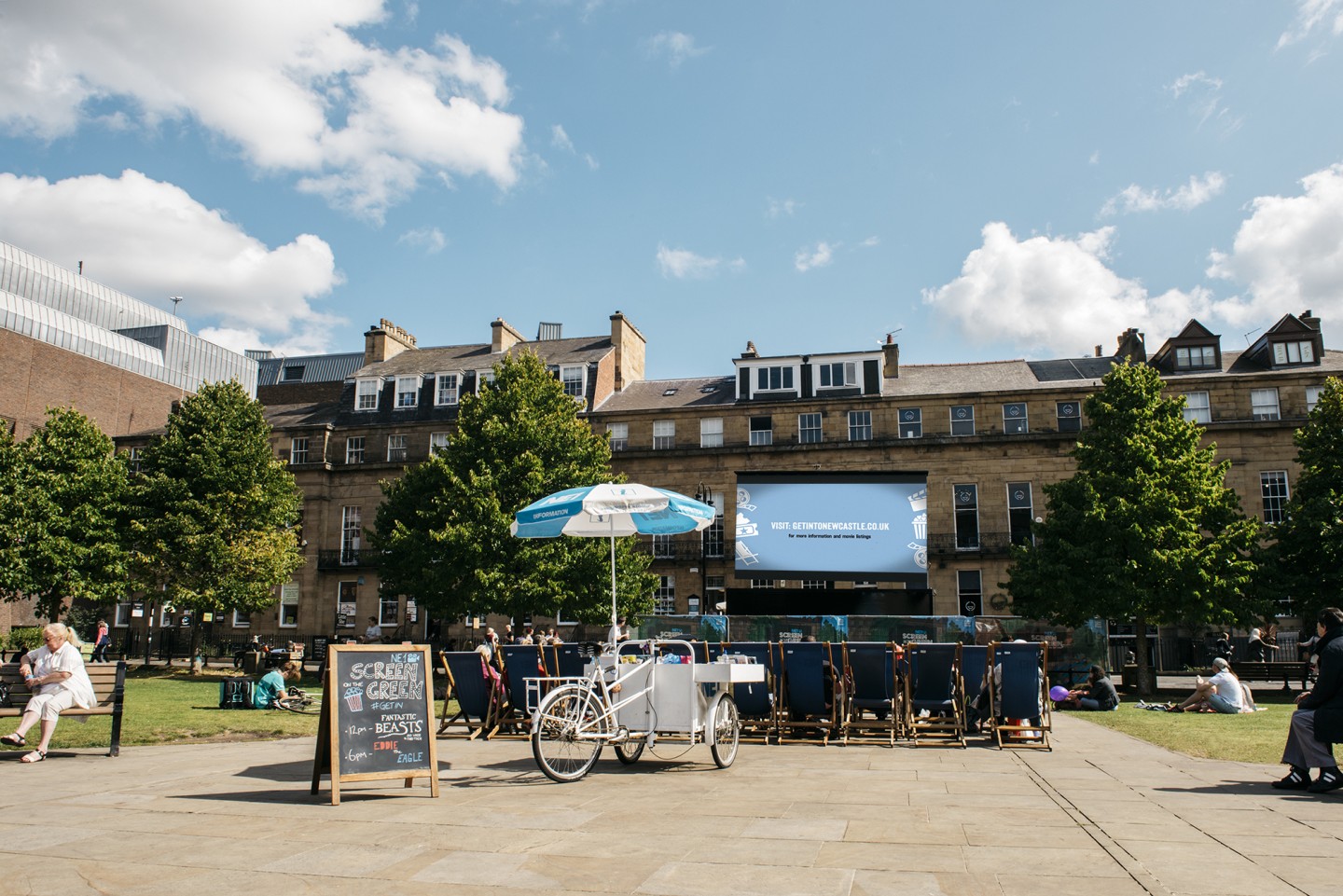 The screening is part of NE1's Screen on the Green Summer of Sport, which will see a packed programme of international sporting events broadcast at Old Eldon Square, as part of NE1's Screen on the Green Summer Schedule.
This summer, as well as the much- loved movies, NE1 is proud to present Screen on the Green's Summer of Sport, a month long programme of international sporting action. All the best tennis action from Wimbledon, the knockout rounds of the Women's Football World Cup, two live games from the Cricket World Cup, action from Formula One's British Grand Prix, stages of the world-renowned cycling Tour de France, and the Semi-Finals and Final of the Netball World Cup will all be shown on the big screen in the heart of the city for everyone to enjoy.
As well as action on screen, NE1 will be bringing the sport to life with a series of sporting activities linked to the on screen championships. For instance during the Netball world cup, NE1 Ltd will be teaming up with England Netball who will attend the Screen on the Green netball screenings on 20 and 21 July bringing with them netball balls and hoops. They will be offering the public the chance to 'have a go' and to try their hand at netball, which is the fastest growing female participation sport in the UK.
Full listings and timings are detailed below, but the timings may be subject to change.

NE1'S Summer of Sport Schedule:
Thursday 27 June
7.30 – 10pm Fifa Women's World Cup – England vs Norway
Friday 28th June
7.30pm - 10pm Fifa Women's World Cup - France vs Spain / United States
Saturday 29th June
1.30pm - 4.30pm Fifa Women's World Cup - Italy / China vs Netherlands / Japan
4.30pm - 7.30pm Fifa Women's World Cup - Germany vs Sweden / Canada
Sunday 30th June
Monday 1st July
12pm - 7pm Live action from Wimbledon Championships
Tuesday 2nd July
12pm - 6.15pm Live action from Wimbledon Championships
6.30pm - 10.45pm Live screening of Carmen from the Royal Opera House, London*
*If England Women's Football team qualify for the Semi-Finals of the Fifa Women's World Cup then the schedule will be as follows
12pm - 7.30pm Live action from Wimbledon Championships
7.30pm - 10pm Fifa Women's World Cup Semi-Final
Wednesday 3rd July
12pm - 7pm Live action from Wimbledon Championships
7pm - 10pm Fifa Women's World Cup Semi-Final
Thursday 4th July
12pm - 7pm Live action from Wimbledon Championships

Friday 5th July
12pm - 7pm Live action from Wimbledon Championships

Saturday 6th July
12pm - 3.30pm Live action from Wimbledon Championships
3.30pm - 6pm Fifa Women's World Cup 3rd vs 4th Play-Off
Sunday 7th July
3.30pm - 6pm Fifa Women's World Cup Final

Monday 8th July
12pm - 7pm Live action from Wimbledon Championships
Tuesday 9th July
12pm - 6.30pm Live action from Wimbledon Championships
6.30pm - 10.45pm Live screening of Marriage of Figaro from the Royal Opera House, London
Wednesday 10th July
12pm - 7pm Live action from Wimbledon Championships
Thursday 11th July
12pm - 7pm Live action from Wimbledon Championships
Friday 12th July
12pm - 7pm Live action from Wimbledon Championships

Saturday 13th July
11am - 12pm British Grand Prix practice
1.30pm - 3pm Live action from Wimbledon Championships
Sunday 14th July
1.30pm - 4.30pm Live action from Wimbledon Championships

Monday 15th July
12pm - 4pm Live action from Tour de France
Tuesday 16th July
Wednesday 17th July
12pm - 4pm Live action from Tour de France

Thursday 18th July
12pm - 4pm Live action from Tour de France

Friday 19th July
9.30am - 11am Live action from Tour de France

Saturday 20th July
9am - 1pm Netball World Cup Semi-Final 1
3pm - 7pm Netball World Cup Semi-Final 2
Sunday 21st July
12pm - 2.30pm Live action from Tour de France
2.30pm - 7.30pm Netball World Cup Final