NE1 Ltd, the business improvement district for Newcastle City Centre has unveiled its Summer in the City programme.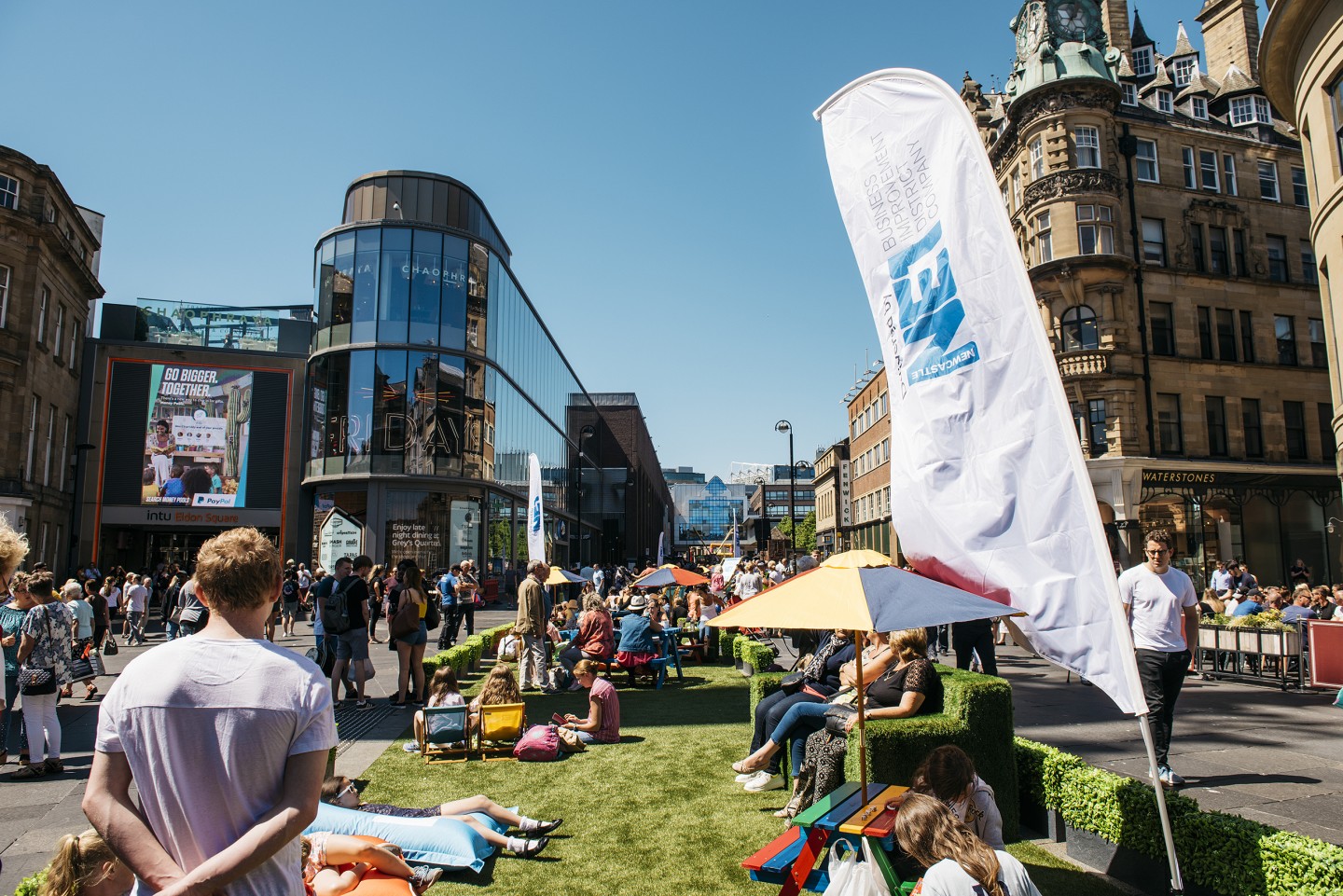 A series of free pop-up events and activities at various city centre locations with some old favourites and some new additions to the packed programme.
Ben Whitfield, Head of Marketing and Events at NE1 Ltd said:
"The team at NE1 Ltd have been working hard on the Summer in the City programme since we packed away last year's events, and we are confident that there is something in the programme for everyone to enjoy.
"Events are so important for a vibrant city centre, they help to animate the city centre, giving people more reasons to come and visit, stay longer and their presence helps support businesses."
Cllr. Ged Bell, cabinet member for Employment and Investment said "NE1's summer events programme is always one to look forward to as summer approaches.
"Making our city centre more attractive to both local people and visitors is central to our ambition of making Newcastle a world-class shopping and leisure destination.
"And a bustling high street plays a big part in this. Not only does this offer a great experience for shoppers, it also helps to create more jobs and prosperity in the city."
NE1 LTD – SUMMER DIARY LISTINGS:
Newcastle City Sprint
A new addition to this year's programme, NE1 has teamed up with HSBC UK, British Cycling, Velo 29 and Newcastle City Council to bring the new Newcastle City Sprint.
Starting at 8pm on Wednesday 10 July, 80 of Britain's elite cyclists will compete in an hour-long race on a 1km circuit starting and finishing at the city's iconic Grey's Monument on Grey Street.
As a warm up to the men's elite race, an under-16s youth event will be staged. Some of Britain's leading U14 and U16s racers will line up to compete on a reduced sized circuit.
Crowds are expected to line the route to see the riders and watch the fast-paced cycling action, which promises to be an exciting addition to NE1's Summer in the City event programme. Prior to the races, there will be a real buzz in the city thanks to the teams, their entourage and the race zone, which will pop-up near Grey's Monument.
Screen on the Green
Sport continues to play a key part in the wider Summer in the City schedule with NE1's ever-popular Screen on the Green showcasing a packed sporting calendar, as well as movies throughout the summer. The large, outdoor movie theatre returns to take up residence in Old Eldon Square on June 21st and remains in place until 1st September.
The screen will be even bigger this year to maximise the Summer of Sport coverage, starting in late June with the Cricket World Cup and continuing throughout the summer.
Six sporting events that will be screened are:
Cricket World Cup
Women's Football World Cup – including semi and finals with high hopes for Phil Neville and the England Lionesses
Wimbledon
Women's Netball World Cup – the fastest growing female participation sport in the UK with England going into the championships as one of the favourites.
Tour de France – world-renowned cycling race
British Grand Prix
The Screen on the Green open-air movie schedule has yet to be released but NE1 will be showing two feature films each day during the six weeks of school summer holidays, beginning Monday 22nd July
Blackett Street Family Fun Weekends
A major new addition to last year's events programme, the Blackett Street Family Fun Weekends are returning this summer, transforming the area into a pedestrian priority, family park and playground, equipped with artificial grass, seating, fairground rides and large outdoor games for families to enjoy.
To create a park-like feel, artificial grass will be laid over 1000sqm of road from Old Eldon Square to Pilgrim Street for the seven weekends and a range of outdoor seating including large beanbags, mini deck chairs and an artificial grass sofa will encourage families and shoppers to rest their legs and enjoy.
Family Fun weekends will take place on:
20/21 July
27/28 July
3/ 4 August
10 / 11 August
17/ 18 August
24/ 25 August
31/ 1 September
Northumbrian Water Quayside Seaside
Newcastle's famous and much-loved pop-up beach officially opened in May and will remain in place until the end of October. Occupying a larger site, the beach is equipped with the usual sand, deckchairs and palm trees but this year has an added astro-turf area, that will be occupied by food vendors, and for beach events during the summer. NE1 is looking to introduce further wellness activities, free-of-charge, to the beach throughout the summer.
Grey Street Gathering/Northumberland Street Village Green
Continuing the theme of more green space in the city centre, the pop-up greens on Grey Street and Northumberland Street are both back this year.
The Grey Street Gathering offers a welcome place for people in Newcastle to take a break, have a picnic or just to enjoy people-watching on one of Europe's most beautiful streets. Expect free exercise and wellness sessions here throughout the summer.
NE1's pop up village green on Northumberland Street will return, bigger and better than last year and there have been hints that new "animals" may be taking shade under the trees that will surround the green.
Visitors to both of the pop-up parks will be able to make use of deckchairs, large beanbags and mini deck chairs.
Bigg Foodie Fridays
A new, mouth-watering, monthly food market launched at Newcastle's historic market place in May. The queues were testament to the quality of the street food on offer, and vendors were keen to sign up for the next round of markets which will be staged on the last Friday of every month from now until the Autumn.
The markets are part of NE1's efforts to reanimate and reinvigorate the Bigg Market which has received support from the National Lottery Heritage Fund.
Food on the menu includes something for all tastes from old favourites such as burgers, bangers, pizza and curry through to Vegan stalls and Korean,
The market open at 11am and runs through until 3pm.
Bigg Foodie Friday events are free from single-use plastic, to lessen their impact on the environment.
Dates of future Bigg Foodie Fridays are:
Friday 28th June
Friday 26th July
Friday 30th August
Friday 27th September
NE1 Newcastle Restaurant Week – 5th -11th August.
A major date in Newcastle's foodie calendar is NE1's ever-popular Newcastle Restaurant Week. The event is inspired by New York's Restaurant Week and in Newcastle over 100 Restaurants are expected to sign up to offer diners the chance to sample the delights of some of the city's top restaurants for only £10 or £15 per head. Newcastle's Restaurant Week will run between 5 – 11th August 2019 and is one of the busiest weeks in the year for the city's restaurant businesses.
NE1 Newcastle Motor Show
This year, NE1's popular Newcastle Motor Show will be taking a break from the programme ready to return in 2020 with a major revamp and a larger event covering more of the city.