Oxford and Cambridge may have the UK's most famous university boat race, but Newcastle has its own North East version with a day of rowing races on the Tyne with fierce competition between local University rivals, Newcastle and Durham. Called the Boat Race of the North and sponsored by Siemens, the event is to be held on Saturday 17 March.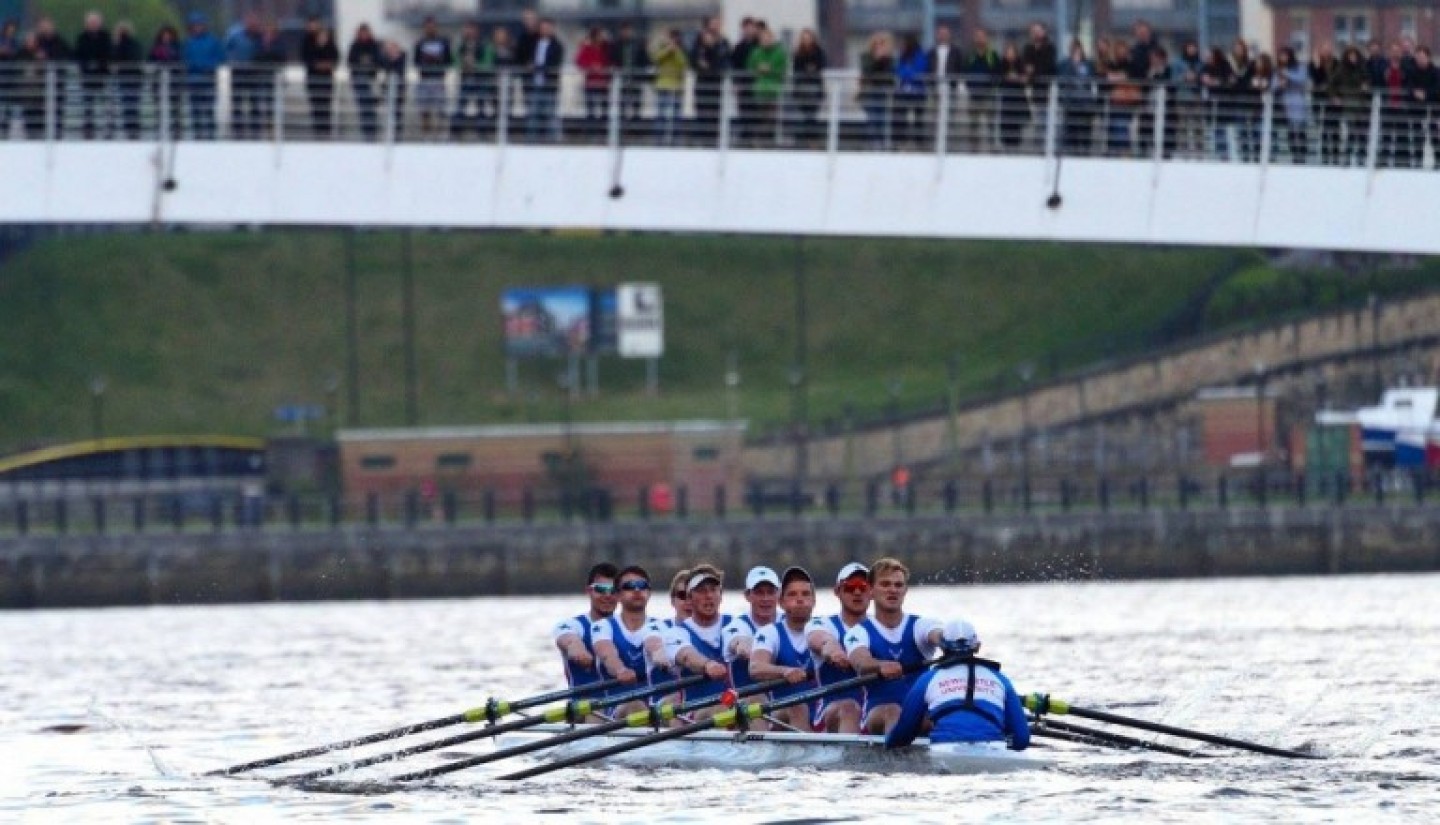 Ten North East rowing teams will compete for a range of coveted race titles and to be crowned the Siemens Boat Race of the North winners 2018. The showcase event on the day will be the races between local Universities, Newcastle and Durham.
Newcastle University with support from NE1 Ltd, the business improvement district company for Newcastle City Centre and Siemens who are sponsors of the event, have all worked hard to bring the Boat Race of the North back to the Tyne. The event was a feature on the river in the 90s, the first event was held in 1997. Newcastle University and NE1 were keen to see it return as an annual event. In 2015, the event was reinstated and this year organisers hope the event will attract more spectators to the Quayside.
All the action is centred around NE1's Newcastle City Marina, with the races taking place between the Gateshead Millennium and the Redheugh Bridges. Rowing teams from both Durham and Newcastle Universities will take part alongside teams from Tyne Rowing Club. Races start at 2.30pm and will be held every 10 minutes until 4pm. Presentations, medal ceremonies and an after event barbeque will be held on Thomas Cook Airlines Quayside Seaside at 5pm.
The event provides a great day of rowing and racing action. Commentators provide race analysis on a tannoy throughout the day with supporters from local rowing clubs and from the Universities gathering on the Quayside.
During the Boat Race of the North, NE1 will be organising fun rowing challenges and competitions for the public to 'have a go' on rowing machines located on the pop up beach, Thomas Cook Airlines Quayside Seaside.
Colin Henry, Head of Digital Grid Automation Systems of Siemens said:
"Siemens is a proud North East employer and has a great energy technology partnership with Newcastle University. We are committed to driving innovation in our cities and energy systems to help cities like Newcastle continue to be such an exciting city now and sustainable for the future. We are delighted to sponsor events which raise energy awareness and conservation issues and thought a great way to engage the public in how much energy different everyday activities use would be to set energy targets for the rowing machines on the quayside. We'd encourage everyone to come down and row to generate enough energy to light a light bulb or power a toaster!
Tariq Albassam, Director of Operations at NE1 Ltd said:
"We are delighted to play our part in bringing the Boat Race of the North back to the Tyne and to have NE1's Newcastle city Marina at the heart of the action. The event is a great spectator event and exciting for the crowds that gather on the Quayside. We are keen to support events and activities that give a new lease of life to the Tyne and bring events and people to the Quayside. It all helps make Newcastle a vibrant, dynamic European regional capital city."
Colin Blackburn, Director of Sport, Newcastle University said:
"The Siemens Boat Race of the North will be a great spectacle for the public to enjoy as well as a fantastic opportunity for our rowing teams to showcase their talents and hopefully bring back the Siemens Boat Race of the North title and trophy. We're grateful to both NE1 and Siemens for supporting the event and helping to bring it back to the Tyne."
Race timetable
Starting at 2.30pm – every 10 minutes until 4pm
JW8 Tyne vs Durham
JM8 Tyne vs Durham Freshers
8 Women NUBC vs DUBC Freshers
8 Men NUBC vs DUBC
W8 Tyne vs Durham
M8 Tyne vs Durham
2nd 8 Women NUBC vs DUBC
2nd 8 Men NUBC vs DUBC
1st 8 Women NUBC vs DUBC
1st 8 Men NUBC vs DUBC
("JW8" refers to junior women's eight and "JM8" is junior men's eight)