NE1 Ltd, the Business Improvement District Company for Newcastle City Centre has issued its Business Plan and BID renewal proposals to its 1,400 business members today – Monday 3 September - outlining what it calls its 'new plans, new possibilities and new opportunities for Newcastle' as it seeks re-election for a third, five year BID term.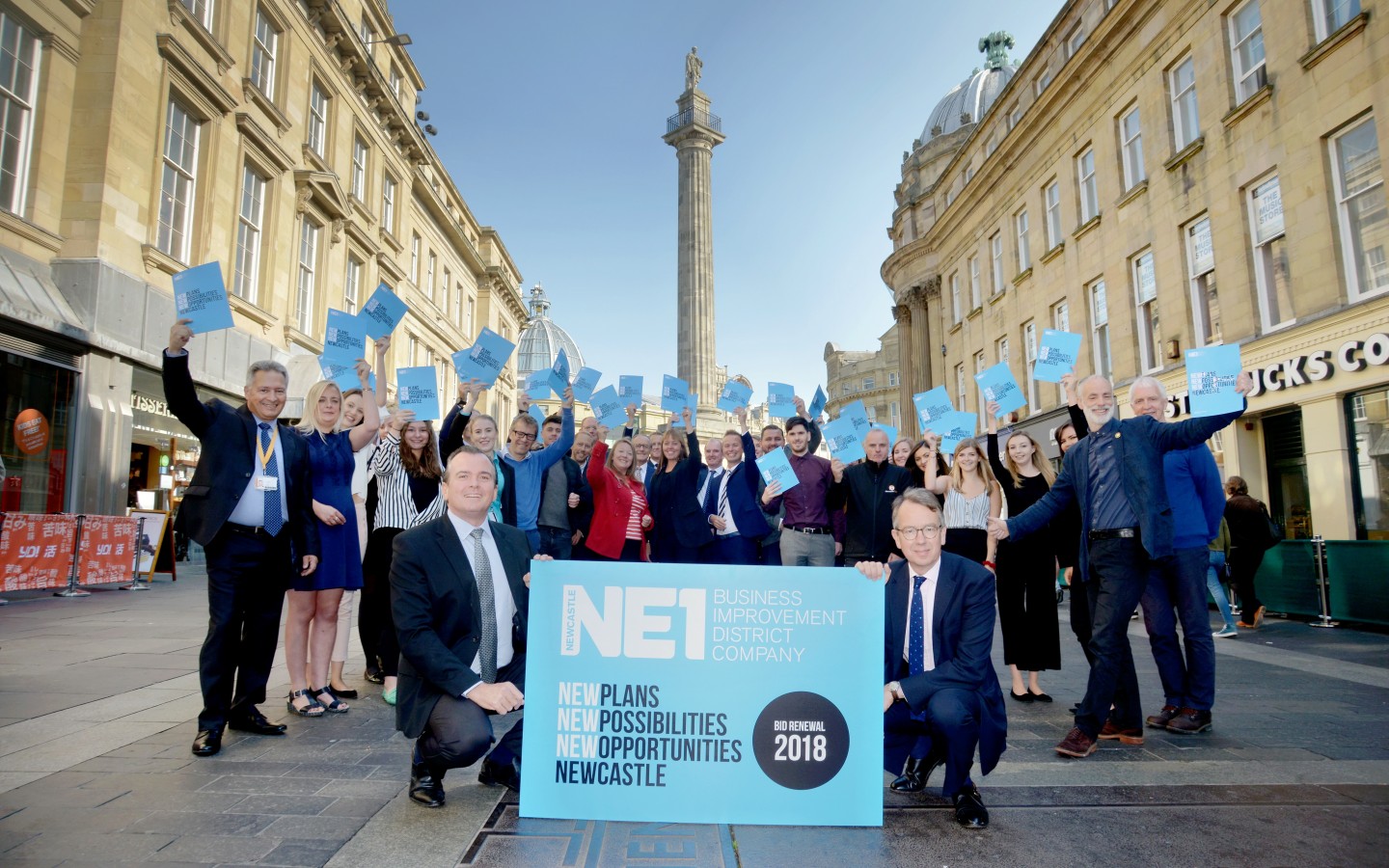 Ballot papers will be distributed on 20 September and voters will need to cast their vote before 5pm on 18 October to allow NE1 to continue to support businesses in Newcastle City Centre.
NE1 is one of the longest serving business improvement district companies in the UK with a remit covering Newcastle city centre. When it was first established in 2009 it was the biggest BID company in Europe and has maintained a reputation for getting positive things done in and for the city. A 'yes' vote in October will secure the future of its existing projects and the gains made over the past ten years as well as delivering an additional £10 million investment in the city over the next five years.
NE1's purpose has always been to create the best possible environment for the city's businesses to thrive and to provide the backdrop for economic growth and prosperity in Newcastle and the wider city region. To date this has been achieved through capital investment projects, collaborative efforts across both public and private sector partnerships and an ambitious vision for the city's future.

Among NE1's successes over the previous two BID terms have been catalyzing and investing in major capital schemes such as the Central Station Gateway Project, the creation of the NE1 Newcastle City Marina and the Bigg Market regeneration project financed by Heritage Lottery Funding together with NE1 and Newcastle City Council joint investment. The launch of NE1's Alive after Five initiative has also been a major success story for NE1 transforming the city centre's early evening economy attracting more than 13 million additional visitors to the city together with an estimated £839m visitor spend since launch in 2010.
Continuing and consolidating what has already been achieved is a key component of NE1's plans for a third BID term together with ambitious plans for Newcastle's Quayside, improving the city's Digital infrastructure, its retail and historic core and plans to prioritise greening and sustainability within the city centre environment. All these plans will be complemented with NE1's role of providing a strong voice for business and continuing to raise the profile of Newcastle at a regional, national and international level.
Commenting on NE1's Business proposals and BID renewal, Adrian Waddell, Chief Executive of NE1 Ltd said:
"Newcastle is on the cusp of something very special and it's an exciting time for businesses and for the people of the city, but we cannot afford to be complacent. Support from the city's business community is essential in providing a strong mandate to push forward and deliver these ambitious plans. Over the past few months we have consulted widely with members; their views and hopes for the city have helped shape our business proposals and plans for the future. The key message from businesses is to keep being ambitious and to strive for quality in all that we do. We believe the business proposal we have launched today delivers this.
"We urge businesses to vote 'yes' so together we can maintain the gains of the past and secure £10 million investment for Newcastle's future."
NE1's business priorities for the next five years:
Greening and Sustainability
Getting the basics right – ensuring Newcastle is cleaner, greener and safer – incorporating greening and sustainability into the fabric of the city and into all physical projects to create a better trading environment for NE1 businesses, their employees, residents, tourists and other city visitors.
Quayside
Focus on transforming the iconic Quayside with increased investment and plans to create a distinct brand for this quarter of the city with aspirations to create a 1 km linear park to rival Copenhagen, Melbourne or New York's 'High Line'.
Deliver further investment in Newcastle's Retail Core
Create a retail destination of national and international significance – with better pedestrian links and a higher density of independent retail and leisure on Northumberland Street's side streets. This summer's trial initiatives, creating family friendly parklets on Blackett Street and Northumberland Street, has provided a routemap for the city's future direction of travel.
Deliver further investment in Newcastle's historic core
Work with property owners on additional private sector investment in the Bigg Market to bring vacant buildings back into use. Identify and encourage further investment in the city's Historic Core including the Castle Keep, Black Gate, the Lit and Phil and the Mining Institute with a coordinated approach to marketing and promotion for this area of the city.
Digital infrastructure
Work with businesses and other partners to enable faster connection speeds and better, free WiFi for visitors. Lobby for increased investment and support for the Smart Cities Agenda.
Major events and animation
Continue to identify and attract major events to the city to deliver economic impact for NE1's businesses such as the Rugby Football League's Magic Weekend and concerts at St James' Park. Focus NE1's event delivery on the summer and winter seasons, transforming Newcastle's Christmas experience.
Continue to invest in NE1's established annual events programme that includes Newcastle Restaurant Week, Newcastle Motor Show, Screen on the Green and Quayside Seaside.
Support and further develop existing events in the city such as Chinese New Year, Newcastle Pride and the Mela.
Continue to raise the profile of the city at a regional, national and an international level.
Continue to invest in Alive after Five guaranteeing free car parking after 5pm in the Council's multi-storey car parks until March 2024 supported by a heavyweight marketing and events campaign.
Continue to operate NE1's much valued Street Rangers and Clean Team.