NE1 has unveiled its latest piece of interactive public art on Newcastle's Quayside. Designed and constructed by north east art and architectural designers, Raskl, the Play Pavilion is an adaptable multi-functional structure that has been installed next to the Pitcher and Piano, directly opposite the Baltic on the Newcastle side of the Tyne.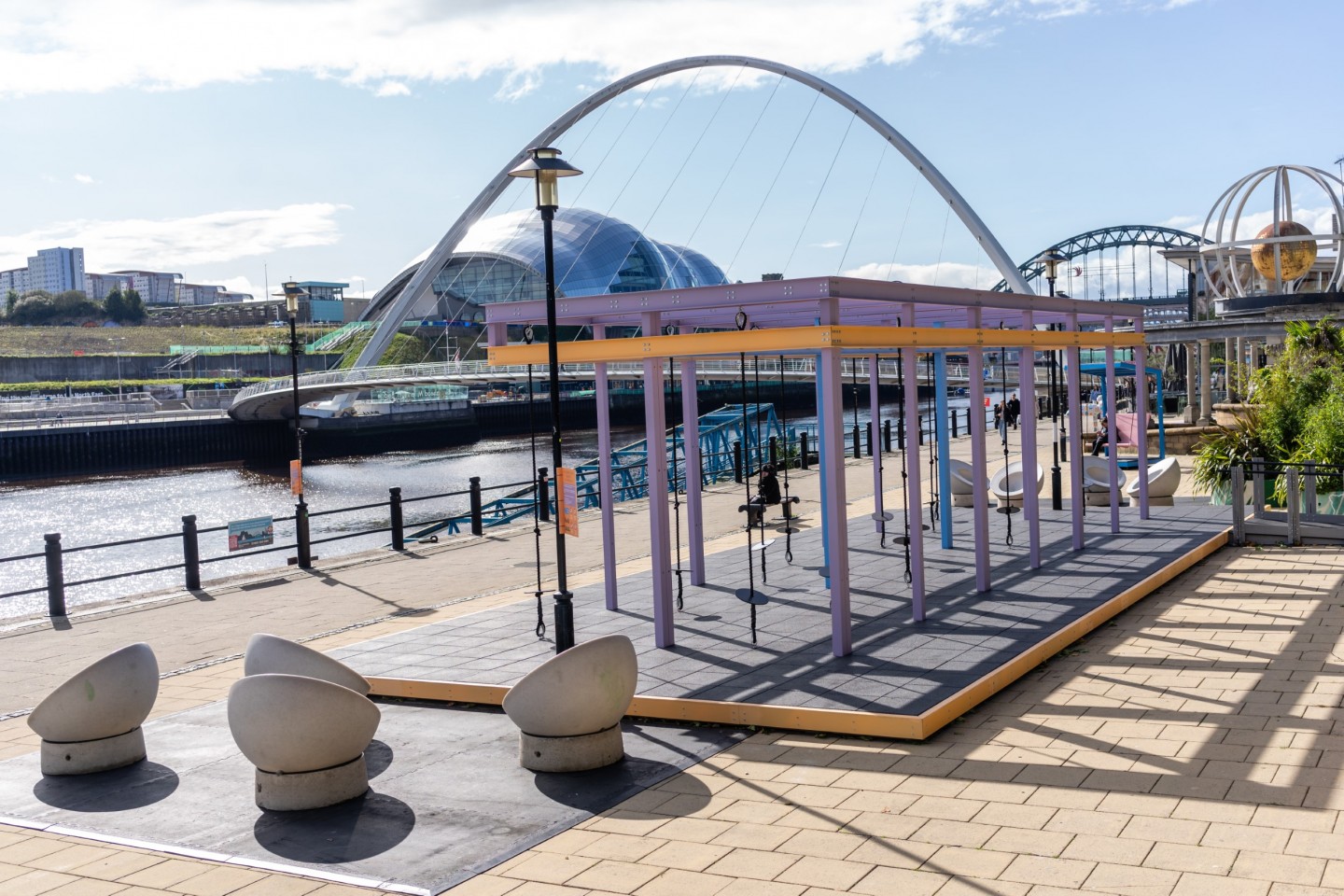 16 metres wide by 7 metres long, the Play Pavilion launches as a huge frame equipped with 14 button swings, which are free and fun to use for people of all ages.
The new structure has been designed to work alongside NE1's other Raskl-designed contemporary seating in the same location, creating a play and seating area, a welcome and well-used addition to the Quayside. The zone includes dichroic seating, pink bench swings, and swivel seats which rotate through different colours when the sun goes down.
The Play Pavilion, the latest addition to this zone, has been designed to be bold, eye-catching and practical, a versatile structure that can be adapted and augmented with different design features, to change its use and functionality throughout the year. The Play Pavilion will also offer a space and structure for collaborations with local artists, Universities and community groups.
The fun starts with the initial set up of 14 button swings, positioned in two rows along the length of the Play Pavilion, which will remain in place for the foreseeable future.
Ben Whitfield, Director of Communications at NE1 said: "We have one of the most iconic and beautiful waterfronts in the UK, if not Europe, and we have worked hard over the last few years to create clever, fun and dramatic seating and structures for people to rest and enjoy the views.
"We've been delighted with the success of our frequent collaborations with Raskl and the park-like seating zone we have created. Raskl has unleashed their creativity with the Play Pavilion and we are delighted with the results. It is a very recognisable and impactful addition to our interventions on the Quayside which are all designed to bring interesting things for the public to see, do, and interact with in the public realm. It is also designed so we can change it frequently so families, and visitors to Newcastle know that there will always be new things to do and see in the city, all year round."
"Raskl are exactly what we always look for in a partner. Inventive, flexible, creative, and pragmatic, they have national and international recognition for their work and they are here on our doorstep creating for NE1 and the city. We're thrilled to work with them."
Dan Rose, Raskl said: "The team at Raskl are very proud to be involved with a public project so close to home, and we're all really pleased to continue developing our relationship with NE1 who clearly work hard to improve our local urban environment. We know from past experience how enthusiastic the audience is with interventions in this space and we look forward to seeing how people interact with the latest addition, and to see it brought to life with activity."