Newcastle's burgeoning reputation as a major rugby destination has been further underlined by an impact report from this year's European Professional Club Rugby finals.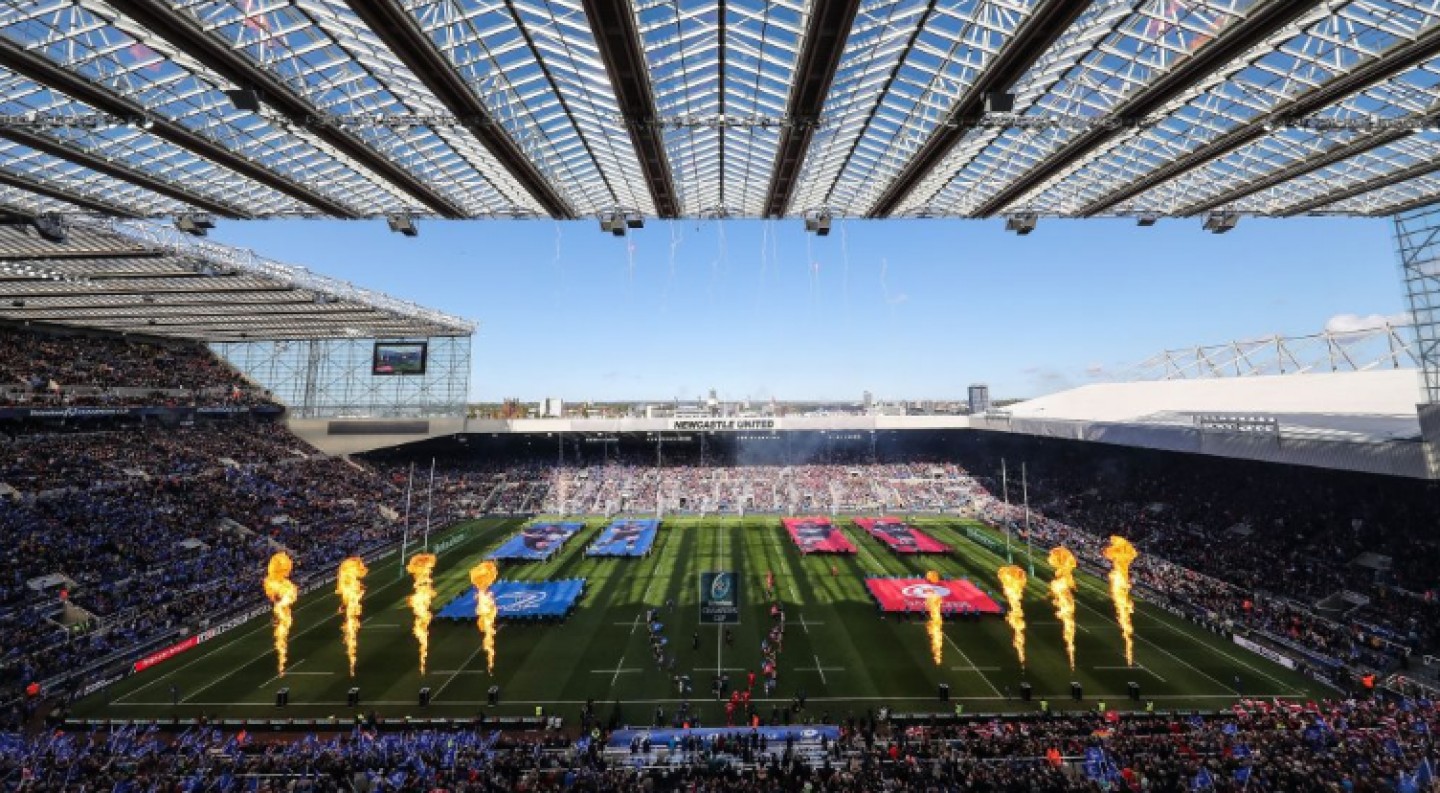 The city's St James' Park stadium welcomed a combined attendance of 80,368 for the Heineken Champions Cup final and European Challenge Cup finals on May 10-11, delivering a boost to the city's economy of £24.6m including £16m worth of direct expenditure.
The city's hotel occupancy rate was 99% over a weekend in which a quarter of those attending the fixtures came from outside the United Kingdom, with those surveyed reporting overwhelmingly positive feedback.
Newcastle's status as a top rugby destination has already been established with St James' Park having successfully staged three matches during Rugby World Cup 2015, four Super League Magic Weekends and two Newcastle Falcons 'Big One' games. England will this week play a full rugby union international at the iconic venue for the first time, while Rugby League World Cup 2021 games will be held at St James' Park and Kingston Park Stadium.
Mick Hogan, event director for Newcastle 2019, said: "The economic impact report and the supporter survey puts into a formal context what we already knew – that bringing the European finals to Newcastle has been a huge success.
"Anyone who was here to experience the event will be able to tell you it was a carnival of colours where immense sporting theatre was hosted with our famous North East hospitality, and the numbers certainly bear out those impressions. In addition to that it has further helped promote the sport of rugby within the North East, and that legacy aspect really is important in helping to inspire the next generation."
Councillor Ged Bell, cabinet member for Employment and Investment at Newcastle City Council said: "I am thrilled to read the findings of this report which reinforces our belief that Newcastle is a city that can host top class events.
"We pride ourselves on being a vibrant, modern city that welcomes visitors from across the world. 34% of people attending the European Finals visited for the first time and we hope their positive experiences mean they will head to Newcastle again in the future, while 85% said they would recommend our city to their family and friends.
"The Newcastle City Council Fan Village on the Quayside, city centre market and activity at St James' Plaza proved extremely popular with fans attending the game as well as families and residents. They helped to create an unbelievable, inclusive atmosphere across the city for the full weekend and I was pleased to see businesses and local traders making the most of this brilliant opportunity.
"We pride ourselves on our famous Geordie welcome and it is fantastic to see that this was recognised in the feedback, where 96% have said Newcastle is friendly and welcoming."
Sarah Stewart CEO of NewcastleGateshead Initiative added: "This positive feedback comes on the back of a tremendous amount of work from the partnership put together to stage the event, consisting of Newcastle United FC, Newcastle City Council, Newcastle Rugby Ltd and NewcastleGateshead Initiative.
"This enormous effort has been proven to be worthwhile from an economic standpoint with overnight visitors spending an average of £234 each, and also from a profile perspective with visiting supporters and media speaking in glowing terms about the city's staging of the event. The three words used most to describe Newcastle were 'friendly, vibrant and fun' closely followed by 'welcoming and lively', with 85% of visitors saying they would recommend Newcastle to family and friends."
Lee Charnley, managing director of Newcastle United, said: "Newcastle has developed an outstanding reputation for hosting major sports and entertainment events and we are delighted that St James' Park continues to play a crucial role.
"As well as having a world class venue in the middle of the city, we are proud to have highly-experienced, skilled people across the club and our partner organisations who can deliver a fantastic experience.
"These events not only benefit those who attend - they also have a hugely positive impact on local businesses, the region's economy and our wider community."
François Vergnol, marketing and commercial director of tournament organisers European Professional Club Rugby, said: "The economic success of Finals weekend for Newcastle and the North East of England highlights the long-term value of hosting club rugby's greatest weekend in such a dynamic destination.
"The local organising team had a clear objective to create a strong and lasting legacy from the event and it is clear that the traditional Geordie welcome that we received will inspire return visitors in the future. I always find it quite remarkable how sport has the ability to positively influence the perception of a city in the eyes of visiting fans."
Headline figures from the economic report and supporter survey, which was completed by NGI Solutions and received feedback from 1,950 respondents, include:
* The economic impact for the event was £24.6m, with £16m direct expenditure.
* Hotel occupancy for the weekend was 99% in the city, with fans using accommodation as far and wide as Northumberland, Cumbria and North Yorkshire
* 34% were on their first visit to Newcastle, 29% attended just for the day but their average dwell time of eight hours was almost three times that of other major events staged in the city.
* 96% agreed that Newcastle is friendly and welcoming.
* 88% stated Newcastle has a great food and drink offering.
* 87% said there are lots of things to do in the city.
* 85% would recommend Newcastle to family and friends.
* 86% of Newcastle 2019 visitors said St James' Park is an excellent venue to watch rugby.
* 86% said Newcastle is easy to get to.
* 56% now consider Newcastle to be a rugby city.
* Supporters attending the event gave Newcastle 2019 a net promoter score of 60, which rates as 'excellent'.
* 62% gave the quality of their visitor experience at this event a score of 5 out of 5.
* 63% gave the quality of their visitor experience with Newcastle as the host a score of 5 out of 5.