North East street artist and graphic designer, Mul Draws, whose large-scale, colourful and eye-catching murals can be found on prominent sites and buildings across Newcastle, has been commissioned by NE1 to produce their latest and most ambitious street art project to date. Mul Draws will transform the former bus lane on the Quayside into a work of art with his signature colourful and vibrant style.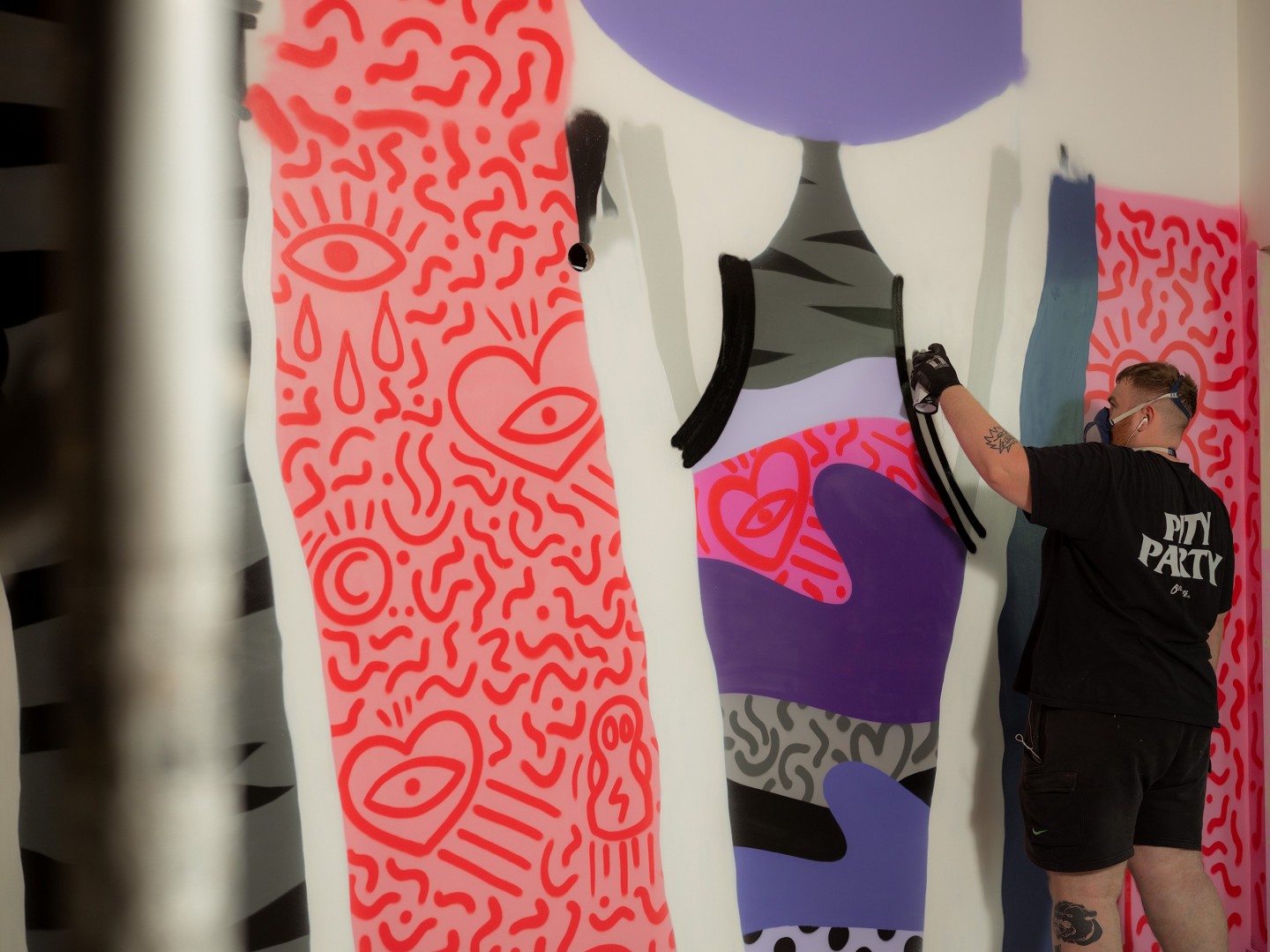 Covering a distance of over 90 metres, this latest installation will be the largest NE1 has ever commissioned and the biggest of its kind in the UK. The work will be designed to be hard wearing, and able to withstand people driving and walking on it, as well as coping with the rigours of the weekly, Quayside Sunday Market.
The artwork will transform the space on the Quayside and will include and extend the public space at Wesley Square.
This will be Mul Draws' first road-based artwork, all his previous pieces have been large-scale, vertical murals on walls and buildings, including in the Ouseburn and on the corner of Pilgrim Street and High Bridge. Mul Draws' work is instantly recognisable and will be a welcome addition to the Quayside.
The piece also continues NE1's ongoing relationship with Unit 44 on High Bridge who have worked with NE1 to curate other large-scale art projects in the city, most recently, the Kings Street steps installation. Both pieces are part of NE1's efforts on the Quayside to trial interventions in the area to ensure it is animated throughout the year, and encourage footfall.
Stephen Patterson, Chief Executive at NE1 Ltd said;
"We are delighted to be working with Mul Draws on this exciting installation. We wanted to work with a local artist to visually transform the area and people's perceptions of how it should be used. Mul has an impressive portfolio, and produces works of art that help transform the areas they are in. Newcastle is a vibrant and dynamic city, and the Quayside is an iconic location, it's important that the artwork reflects this and has a local connection.
"Our aim with this work, as with the wider Summer in the City events programme, has been to celebrate the Quayside and draw attention to its fantastic offer. It's important that people know that there is always something happening, and that the Quayside is a hive of activity, and not just during the summer months.
"We will continue to run focused trials and interventions on the Quayside as we explore the key themes and ideas that emerged from our research with internationally renowned architects, Gehl and from our consultations with the public and local businesses."
Councillor Lesley Storey, Cabinet Member for A Vibrant City at Newcastle City Council said: "It is our aim to make sure a diverse range of art and culture is accessible to everyone in the city whilst also championing locally based talent.
"I am therefore delighted we are providing a platform for this amazing artwork to be displayed in such a dramatic location, and in a place that can be viewed by all.
"If it can inspire people from all over the city to want to discover more about art in any form then we are doing our job and helping our ambitions to be realised."
Danny Hughes, Curator at Unit44 Gallery said: "Ordinarily we're looking to bring fresh and exciting artist to the region, but with this brief we were more than excited to showcase an artist we've worked with for the past two years straight from the local community. Nothing short of prolific in the North East, Mul brings his signature colour and energy to this huge Quayside install."
Image: Artwork by Mul Draws, photo by Ben Hughes