For the 7th year running, NE1 is bringing back the Quayside Seaside to the banks of the Tyne, one of the most popular city beaches in the UK. This year it returns a month early with Thomas Cook Airlines on board as sponsor for the 2nd year.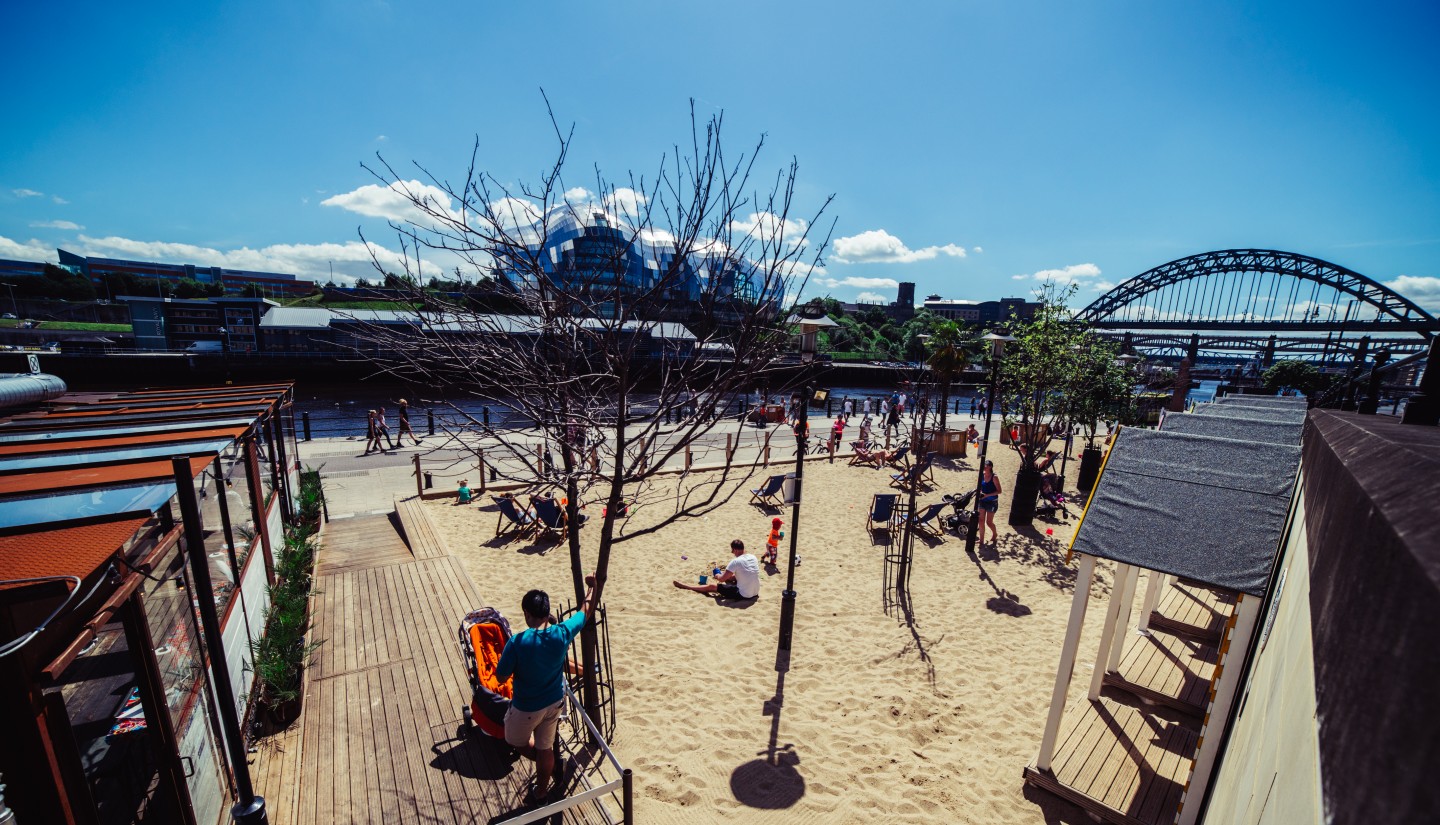 The summertime attraction is returning earlier than ever before in time for the Easter Holidays.
The first sign that the Quayside Seaside will be returning is barriers being erected on the usual site located on the Quayside between the Tyne and the Gateshead Millennium Bridges. Beach construction will get underway and usually takes two weeks to complete. The beach will remain in place until the end of October, after the Great North Run in September.
NE1 was keen to install the beach early this year in time for a packed programme of events and activities in and around Newcastle and the Quayside starting in the Spring.
This year, the pop up beach returns with all its usual elements; 350 tonnes of sand, 5 candy-striped beach huts, 50 deckchairs, climbing wall and palm trees but this year there will be a fun, new addition in the shape of a playground area equipped with a slide and a fireman's pole, which is sure to be a big hit with children aged between 3-7 years.
The beach will also have the added bonus of a new resident restaurant, the much-loved Little Fishy, which will open in the container restaurant, previously home to Riley's Fish shack and Barrio Comida.
Little Fishy has made a name for itself at events and markets across the North East offering locally sourced fish. The team is looking forward to serving over 500k visitors who frequent the Thomas Cook Airlines Quayside Seaside each summer come rain or shine. Fish and chips and fish finger sandwiches are a speciality along with Cajun cod and halloumi fries, which earned the restaurant a place in the finals of The National Fish and Chips awards 2017.
Throughout the summer there will be a packed programme of events and activities happening on and around the Thomas Cook Airlines Quayside Seaside. Full details of the activity programme will be published on www.getintonewcastle.co.uk
Tariq Albassam, Head of Operations at NE1 said: "We are so delighted to be working with Thomas Cook Airlines to bring back the Quayside Seaside earlier than ever before. It is one of NE1's most popular summertime attractions and signals the start of the season. This year the season starts early and the Quayside will be at the heart of the action with events like the Great Exhibition of the North and the Great North Run. We love to bring events and activities to the beach and will be working with organisations throughout the city to make full use of this wonderful and well loved open air space."
Leon McQuaid, Aviation Development Manager at Newcastle International Airport, said: "We're delighted to welcome the Thomas Cook Airlines Quayside Seaside back and are thrilled that one of our airline partners is sponsoring it again this year, demonstrating its on-going commitment to the North East. This iconic summertime attraction on one of the most internationally recognised quaysides in the UK is the perfect way to showcase the exciting range of destinations available with Thomas Cook Airlines from Newcastle Airport in a fun and engaging way that can be enjoyed by everyone."