NE1's Quayside Seaside on the banks of the Tyne signals that summer is on its way - for the past four years the beach has been a welcome addition to the city's summertime events calendar and this year when it returns on Friday 22 May, it will be bigger and better than ever.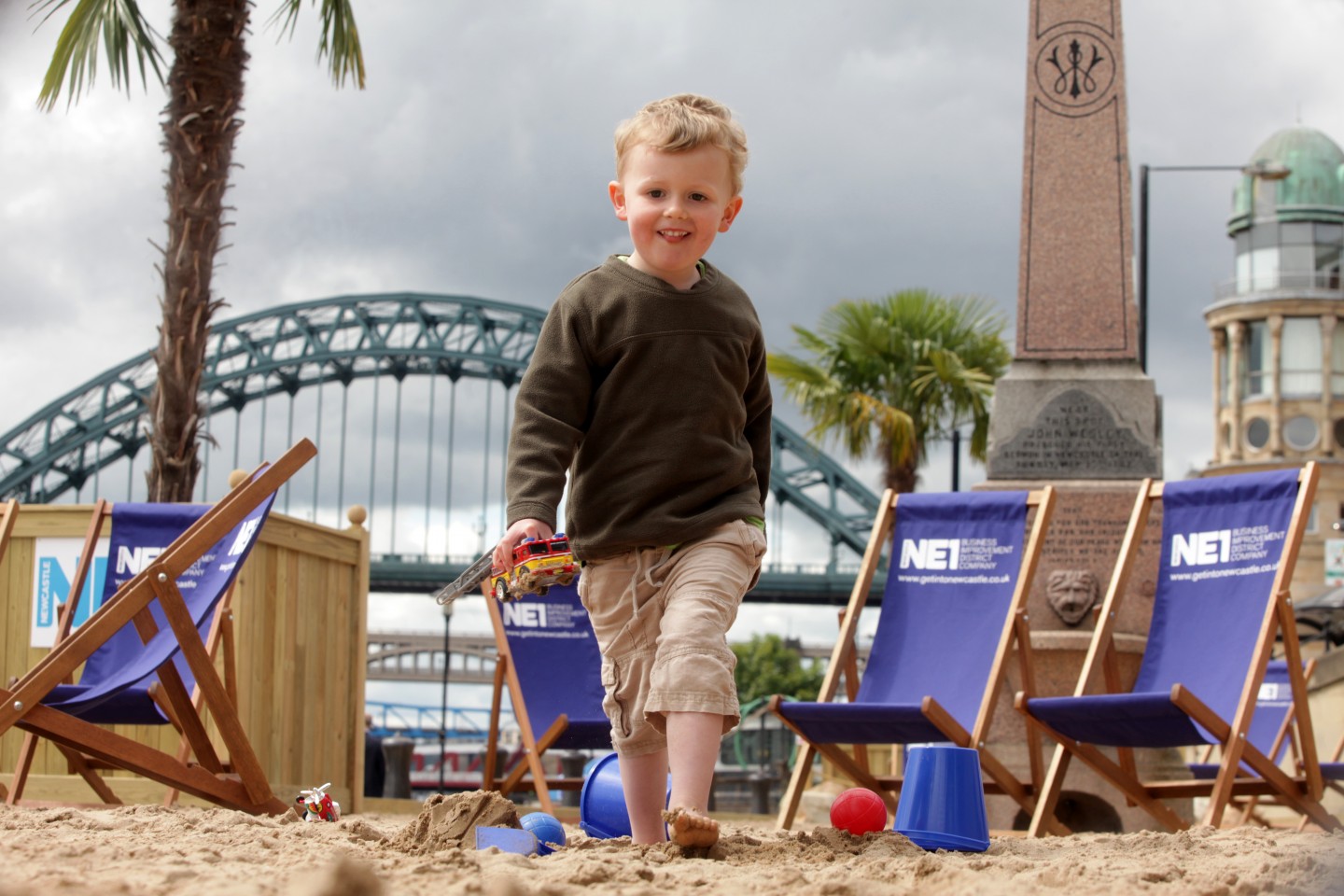 The pop up beach equipped with sand, palm trees and volleyball court is hugely popular with visitors to Newcastle and with Quayside workers who swarm to its NE1 deck chairs to enjoy lunch al fresco or a sneaky game of volleyball after work.
This year, NE1 has taken the opportunity presented by the need to update the beach's four-year old wooden surround to redesign the space and add new elements for public enjoyment.
This year there will be four new elements to the beach:
As well as the traditional beach deck chairs, NE1 has extended the beach decking area and introduced fixed chairs and barrel tables that will remain in situ throughout the summer.
On the back wall of the beach, a kids' climbing wall has been introduced in the style of ship's masts and rigging.
To make more of the space behind the trees, five beach hut style areas have been installed.
In response to requests from various organisations for performance space on the beach, a small stage area has been created to allow buskers or other performers to use the beach for performance based activities.
Commenting on the NE1's Quayside Seaside, Tariq Albassam, Operations Manager at NE1 Ltd said:
"The idea for NE1's Quayside Seaside is to give people more reasons to visit Newcastle and to stay a little longer - we recognise that we have a wonderful Quayside with iconic and breathtaking views and the pop up beach provides a wonderful vantage point to enjoy them as well as providing a volleyball court for people of all ages to have a go at the sport and for kids to play with buckets and spades on the sand all for free.
Work began on the site on 12 May and the beach will open at 5pm this Friday, 22 May.
On Saturday 23 May, Volleyball England will be hosting a 'Go Spike' taster session to give people a chance to try volleyball and will host further volleyball taster session on the Quayside Seaside throughout the summer.
A timetable of all activities on NE1's Quayside Seaside will be published on www.getintonewcastle.co.uk
- See more here