Free fun events and activities for all the family in Newcastle this summer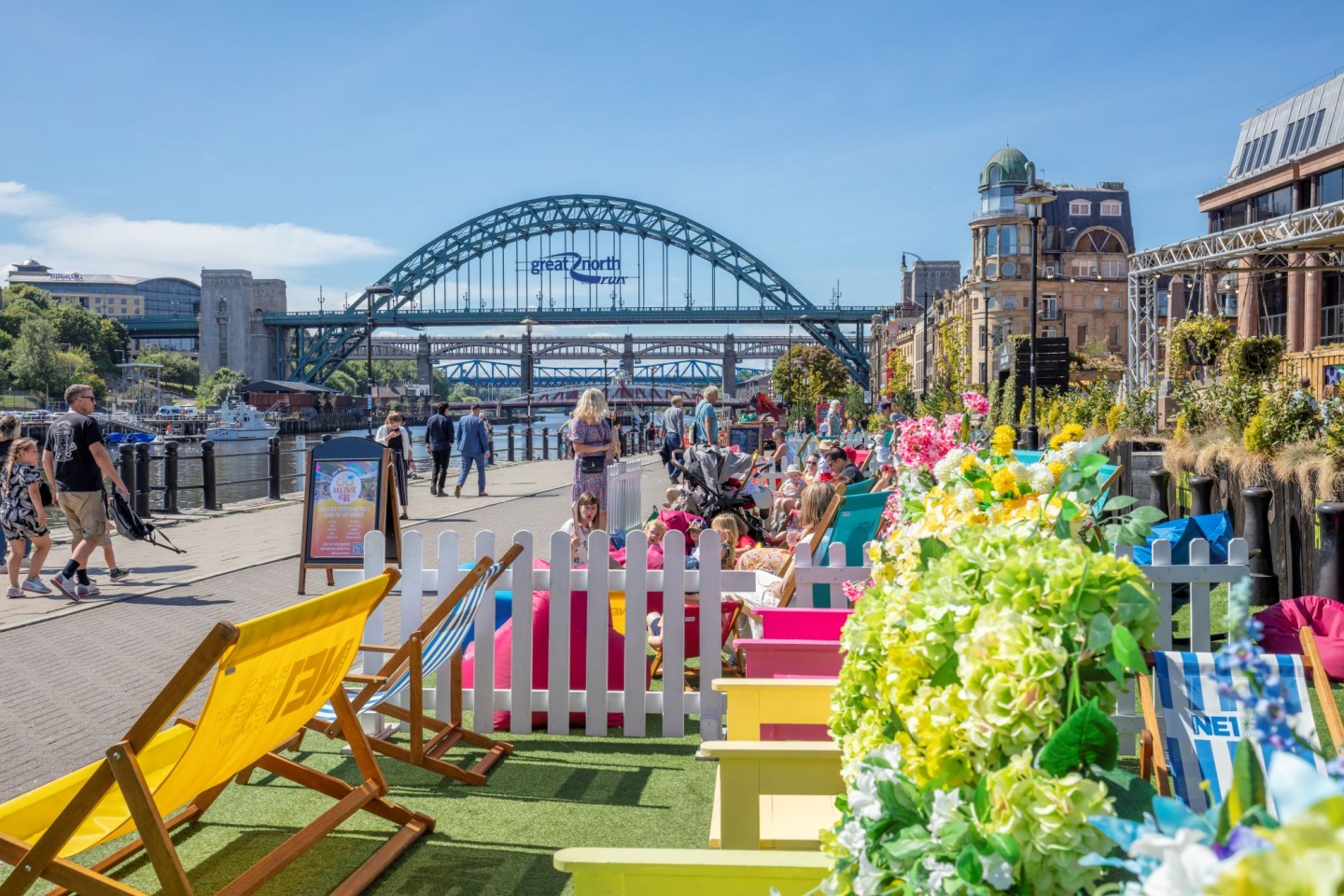 NE1 has launched its Summer in the City Events programme and it is bigger and better than ever, with over 135 free events and activities for all the family to enjoy in Newcastle this summer.
The programme has been designed to give people of all ages and abilities something free to do, enjoy, and to get involved in, knowing that there will be something different and exciting to do each day on the Quayside and at Old Eldon Square.
Over 30,000 people enjoyed last year's Summer in the City activities and this year NE1 has brought back the firm favourites and created exciting new additions to deliver a sensational programme of events, classes and tours which will show the city in its best light. For details of all the events and to book places, visit www.ne1summerinthecity.co.uk
Some of this year's highlights:
Zip Wire from the Tyne Bridge
Back by popular demand for three weekends over the summer, is the adrenaline-fuelled, Zip Wire from the Tyne Bridge. This is the only paid-for activity in NE1's whole Summer in the City programme but was such a phenomenal success last year, that NE1 has worked with organisers, Jelly Legs, to bring the event back for three weekends:
Friday 18th August
Saturday 19th August
Friday 25th August
Saturday 26th August
Friday 1st September
Saturday 2nd September
People can book to take the leap and see the city from a completely different perspective while suspended on a zipline over the Tyne, landing on the Newcastle side of the Quayside. An amazing experience and one to tick off the bucket list.
Historical city tours and rare Monument access
This Summer, NE1 is bringing back and expanding upon its historic tours and rare access visits to some of the city's most famous landmarks, another extremely popular element of previous Summer in the City programmes. This year, the programme includes tours up Grey's Monument, guided tours along the Quayside and the opportunity to step back in time in the Victoria Tunnel, which provided shelter for Newcastle residents during the air raids of World War II.
Tales on the Tyne – Wednesdays at 12 noon
This summer sees the welcome return of the hugely popular weekly story-telling sessions, Tales on the Tyne, held at 11am each Wednesday on the Quayside. Working with Seven Stories, NE1 is bringing back the story telling sessions which developed a strong following last year.
Fitness for Free
Working with The City Baths and Pure Gym, NE1 will deliver a series of free fitness sessions throughout the summer. All staged on the Quayside, the sessions will cater for all ages and abilities.
The City Baths will be running an Age Well programme, offering keep fit and movement classes, while Pure Gym will get the heart racing and blood pumping with their High Intensity Interval Training (HIIT) Body Combat and Pilates sessions. A new addition to the fitness programme will be Zumba, with Latin-inspired dance fitness sessions staged on the Quayside for the first time.
Dance City Collaboration
Thanks to a collaboration between NE1 and Dance City, one of the UK's premier dance schools and venues, a range of dance and movement classes will also get people strutting, prancing and moving on the Quayside. From Hip Hop to Bollywood, belly dancing to break dancing, and every dance genre in between, all sessions will be taught by eminent instructors, including the Chief Executive and artistic director of Dance City, Anand Bhatt will be getting involved personally and teaching live Bollywood classes.
Story Inventors with Live Theatre - Imaginative story telling
An exciting first for this year's programme is NE1's innovative collaboration with Live Theatre. Together they have created 'Story Inventors', an imaginative story telling workshop for children. Kids will be able to unleash their creative talents through storytelling, creating original stories and ideas using props.
Let's Party Events North East
Throughout the summer, NE1 will be working with 'Let's Party Events North East' to create a whole host of family-friendly events and activities.
New 'Little Attenborough Sessions' will teach kids about animals and the environment in a fun, child-friendly way. For younger children, a teddy bears' picnic will meet on picnic blankets on the Quayside and Kids Party Takeovers, every other Saturday, will provide creative fun, music and other activities, as well as appearances from children's favourite princesses, superheroes and comic characters.
NE1 will once again be transforming the Quayside for the summer with colourful and decorative planters, murals and an exciting play pavilion installation created in collaboration with local designers RASKL.
If all that was not enough, NE1's much-loved Screen on the Green is back and in position in Old Eldon Square.
Screen on the Green
The fun started on 3rd July with the welcome return of NE1's hugely popular, Screen on the Green, the free open-air movie theatre in the heart of Newcastle.
Starting with live sporting action from Wimbledon, Screen on the Green will then show movies for the six weeks of the school summer holidays starting on Monday 24 July. Screen on the Green will remain in residence until 3rd September.
This year NE1 has added to the enjoyment at Old Eldon Square with the return of Play Rebellion, a free, outdoor artistic and buildable installation that allows children of all ages to play or just chill amongst this interactive exhibition. NE1 has also added a number of new story-telling activities for children of all ages.
A new addition this year will be Toddler Takeovers on Tuesdays, starting 25th July. NE1 has invited the National Centre for Children's Books, Seven Stories to host a weekly event at Screen on the Green, at 10.30am starting on 25th July. Designed for toddlers and young children, the interactive and immersive sessions will feature a toddler-friendly short film, accompanied by a Seven Stories story-teller reading the book as an accompaniment.
The large outdoor movie theatre is one of the cornerstones of NE1's Summer in the City events programme which this year is packed with events and activities, with all but one free to enjoy.
Commenting on NE1's Summer in the City programme and the months ahead, Rachel Barlow, Marketing and Events Manager at NE1 Ltd said:
"We're tremendously excited and proud to be launching this year's Summer in the City programme to give people of all ages something free to enjoy and to look forward to during the school summer holidays, and to know that every day there will be something different happening in the heart of Newcastle.
"We have put together an enormous programme of over 135 events, which caters for people of all ages and abilities, it is the biggest and best yet. We have returning favourites including fitness classes and story-telling, as well as exciting new activities, from belly dancing to Bollywood and so much more.
There's so much to do in Newcastle this summer and we hope people will sign up to enjoy the fun."
Details of all the activities, timings and locations are listed on the www.ne1summerinthecity.co.uk website, giving people time to plan their holiday activities. All activities need to be booked to avoid disappointment.