Good news klaxon; NE1's Newcastle Restaurant Week is back between 7th – 13th August with over 110 restaurants signed up to take part in what is one of the busiest and most popular weeks in the city's hospitality calendar.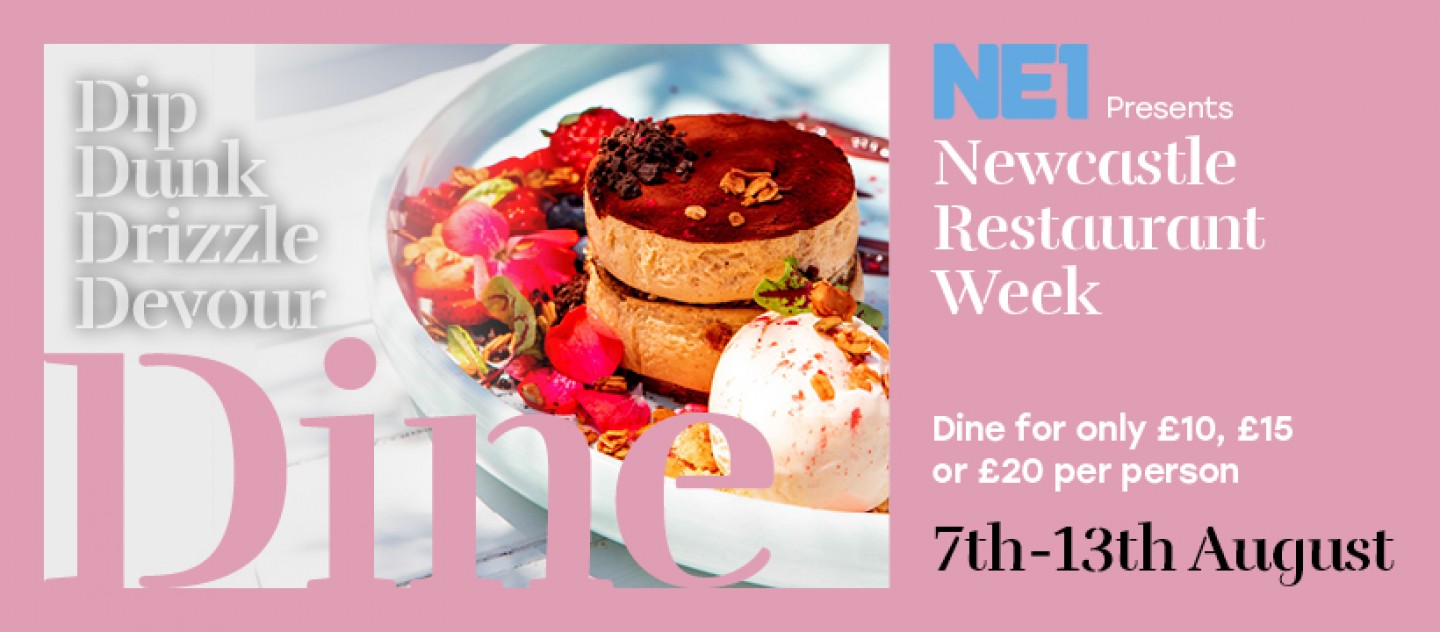 Diners will be able to enjoy meals at participating restaurants all week for only £10, £15 or £20 per person.
NE1's hugely-popular and much-emulated event injects a special vibrancy into the city twice a year, in January and August, filling restaurants with diners and having a positive knock-on effect for other hospitality venues and public transport providers in the city who all enjoy a boost to business thanks to the event.
January's event attracted over 58,000 diners and generated over £1 million for participating restaurants. The aim is for this year's events to surpass the record-breaking achievements of the previous two events in August 2022 and January 2023, which boosted the city's restaurant industry and local economy by over £1.8 million.
The city's top restaurants are signed up to take part in August's event alongside newcomers Gaucho and Trap Food House, as well as the welcome return of Newcastle favourites St Vincent and The French Quarter, all adding something new and special to the NE1 Newcastle Restaurant Week offer.
Since its launch in 2011, Newcastle Restaurant Week has transformed two of the quietest times of the year into two of the busiest by showcasing and celebrating Newcastle's thriving restaurant scene and encouraging the public to get behind local businesses and the local initiative. The city boasts more independent restaurants than any city outside of London.
NE1's Newcastle Restaurant Week was the first event of its kind in the UK, and owing to its success, NE1 often gets approached by other cities keen to learn from their experience and to get advice on how to build a successful event.
One of this year's newcomers, David Taylor, General Manager at Gaucho Newcastle said:
"We were thrilled by the response and warm welcome we received from the North East when opening our Gaucho Newcastle restaurant earlier this year, proudly bringing our distinctive flavour of modern Argentinian dining and some of the finest sustainable steak in the world to Newcastle. We opened our doors in March 2023, so missed January's NE1 Newcastle Restaurant Week, but we are delighted to be getting involved in August's event."
Commenting on the event and what it means for the city, Rachel Barlow, Marketing and Events Manager at NE1 Ltd said:

"NE1 Newcastle Restaurant Week provides a guilt-free way for people to dine out and celebrate in style at some of the city's finest restaurants, knowing that they'll be enjoying the experience when the city is extra vibrant and atmospheric. The event provides welcome exposure for the restaurants involved and an opportunity for people to visit new venues they haven't tried before.
"We're thrilled to host NE1 Newcastle Restaurant Week again this August. After a record-breaking event in January we're hoping to once again fill the city with diners who can't wait to enjoy delicious dishes at some of the city's best restaurants. We have so many wonderful venues for people to enjoy this year which really adds to the excitement before the event and vibrant atmosphere during the week.
"Restaurants love the event, the interest it generates and the attention it draws to showcase their venues, their menus and highlight what they do best. Many also use the week to shine the spotlight on rising stars within their in-house chef teams. All venues pull out all the stops to put on a great week in celebration of Newcastle's vibrant restaurant scene."
"As always, we hope the event will be a huge success, and will break records in terms of number of diners, and the income boost delivered for the city."
For further information, visit the official NE1's Newcastle Restaurant Week page.