NE1 is creating a free, outdoor play space with a difference for children of all ages in Old Eldon Square, at the heart of Newcastle. As part of NE1's Summer in the City activity programme, NE1 has teamed up with Baltic Centre for Contemporary Art and artist, Pippa Hale to bring Play Rebellion, an artistic and buildable installation encouraging children to express their creativity, into an outdoor setting for the first time.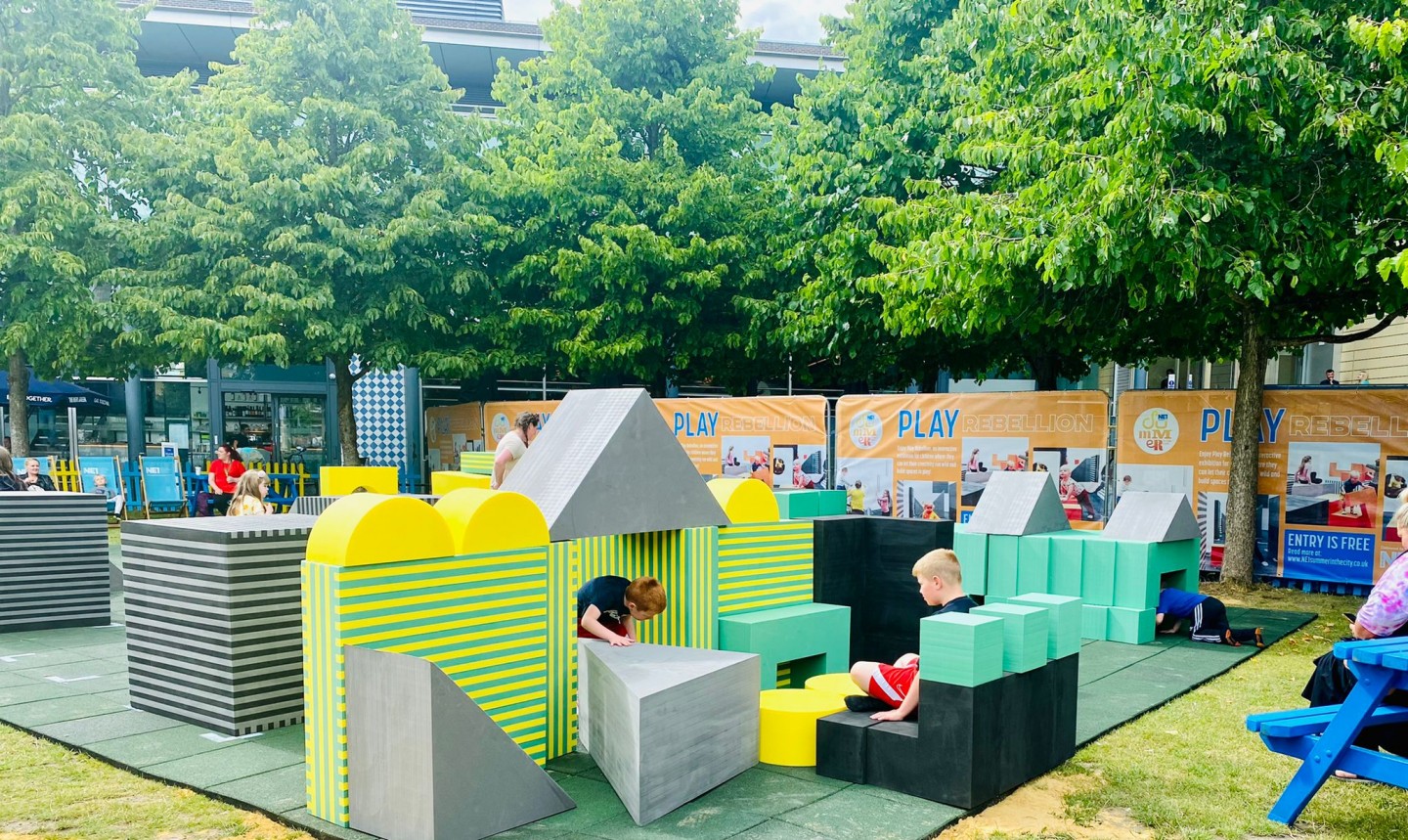 Children can construct, tunnel, imagine, create or just chill amongst this interactive exhibition, which is made up of 16, 1 metre high building blocks. The foam blocks come in a range of different shapes and colours and can be configured into limitless combinations. The 1m cubes break down into steps, triangles, polygons, rectangular prisms, and cylinders to create monuments, models and playscapes.
Play Rebellion was originally commissioned by Baltic, Gateshead and was hugely successful when it exhibited there in 2019/20, welcoming over 45,000 people and being listed on The Times' Critics' Choice.
This summer, NE1 is bringing Play Rebellion to an outdoor setting for the first time, exhibiting on one of the grass quadrants on the east of Old Eldon Square, near Nando's and Wagamama restaurants. The interactive exhibition will sit alongside NE1's open air movie theatre, NE1's Screen on the Green creating even more family fun in the area. Play Rebellion will remain in place until September 4th.
Ben Whitfield, Director of Communications at NE1 said:
"We are so excited to be bringing Play Rebellion to Old Eldon Square this summer, creating another free outdoor activity for children and families to enjoy. The creative play exhibition is a welcome addition to NE1's Summer in the City activity programme in the heart of Newcastle and, alongside NE1's Screen on the Green, makes the area even more family-friendly and a place to be enjoyed by everyone. Children of all ages will be able to express their creativity by playing and creating with the interactive play sculpture. We are excited to see what amazing creations are produced."
Pippa Hale, artist and creator of Play Rebellion said;
"I am so proud to see Play Rebellion being enjoyed in a new outdoor setting. It is great to see people getting connected and creative with the sculpture and most of all having fun in the open air. Thanks to NE1 for bringing this to the city and allowing more people to enjoy and interact with it. The whole idea behind its creation was to encourage people to explore their creativity whilst having fun, aims which fit so well with NE1's whole Summer in the City activity programme."