Tinder meets Time Out in NE1's free Get into Newcastle App available now and free to download. The App transforms NE1's hugely successful what's on and offer led website of the same name, into a fun mobile version on Apple IoS devices.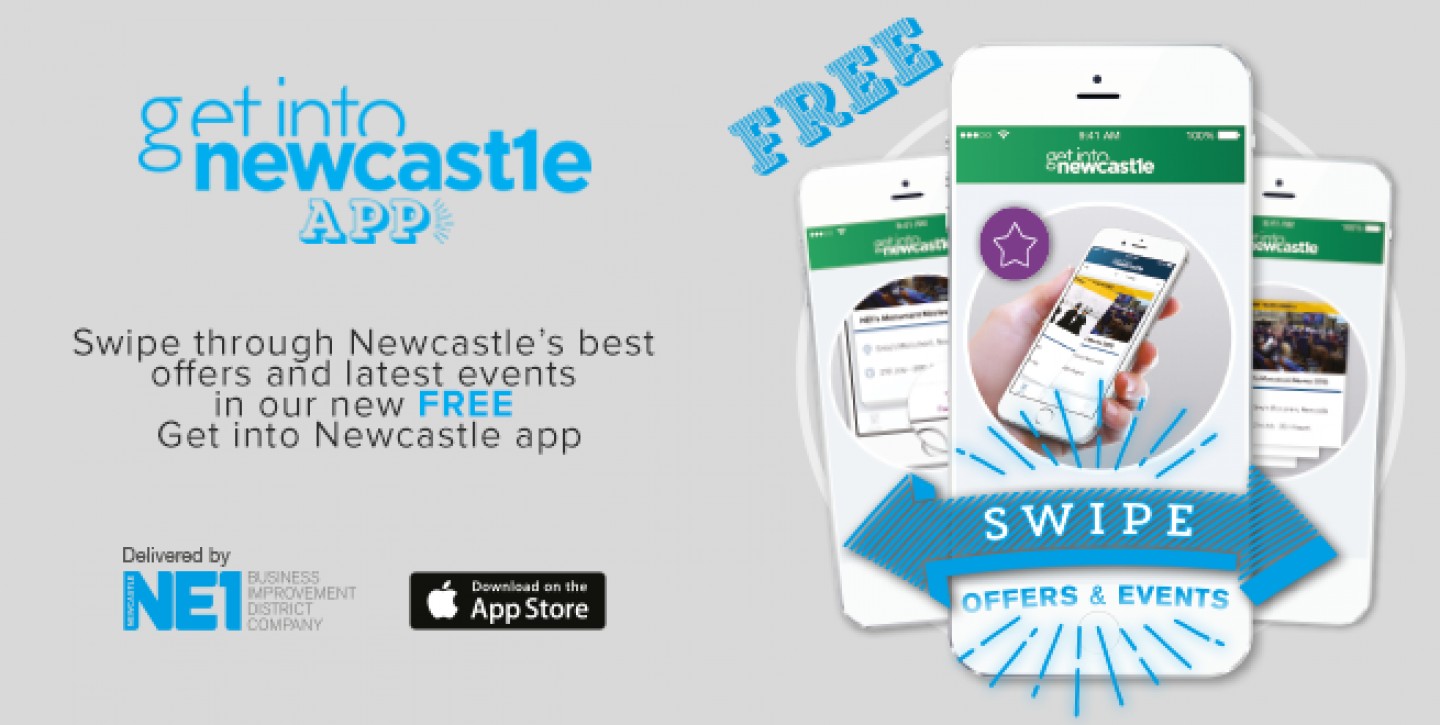 Using the much-vaunted style of dating App Tinder, the new Get Into Newcastle App allows users to swipe left or right to access or reject offer information and news about what's on across the city.
Designed on this format, Tinder has revolutionised the world of online dating, making it easy and fun to use with a swipe left or right function to sift information quickly. The Get Into Newcastle App operates on a similar system with events and offers presented in an easy and fun swipeable format. Users can save or reject and share information with friends and on social media with one easy swipe.
The revolutionary format is different from existing city guides and what's on listings. Traditionally, these guides are simple listings or directories, which are often complicated and not intuitive to use. NE1's new App format is set to revolutionise city-based listings platforms and NE1 anticipates it being rolled out to other cities in the future.
Visitors to NE1's www.getintonewcastle.co.uk website have more than doubled in the last three years with over 60% traffic coming from mobile users. To capitalise on this interest and in response to growing user requests for a more user-friendly mobile version, NE1 worked with Komodo Digital in Newcastle to develop the new App.
The content is constantly updated with event information, offers and listings.
Sandra Tang, Marketing and Events Manager at NE1 Ltd explained:
"We are so excited about this revolutionary new App. There is so much going on in Newcastle and we needed a mobile focused method of allowing users to quickly and easily sift the huge number of high quality city centre events and offers.
"We commissioned Komodo Digital to create an innovative App that works on a simple 'swipe' format much used by dating Apps such as Tinder. The intuitive experience of the new Get into Newcastle App means that not only is it easy and fun to use but users can share information with friends, or on social media. It is so much more fun and simple to use than traditional listings Apps."
To download the Get into Newcastle App: Download from Apple Store https://itunes.apple.com/gb/app/get-into-newcastle-discover/id1051317346?mt=8
Website: http://www.getintonewcastle.co.uk/getintonewcastle-app/