Hundreds of jobs were up for grabs at a Retail and Hospitality Fair organised by NE1 Ltd in collaboration with The Skills Hub, a project by Newcastle City Council. The one-day event, held at the Old Assembly Rooms in Newcastle, on Tuesday 15 August attracted nearly 400 people from across the North East.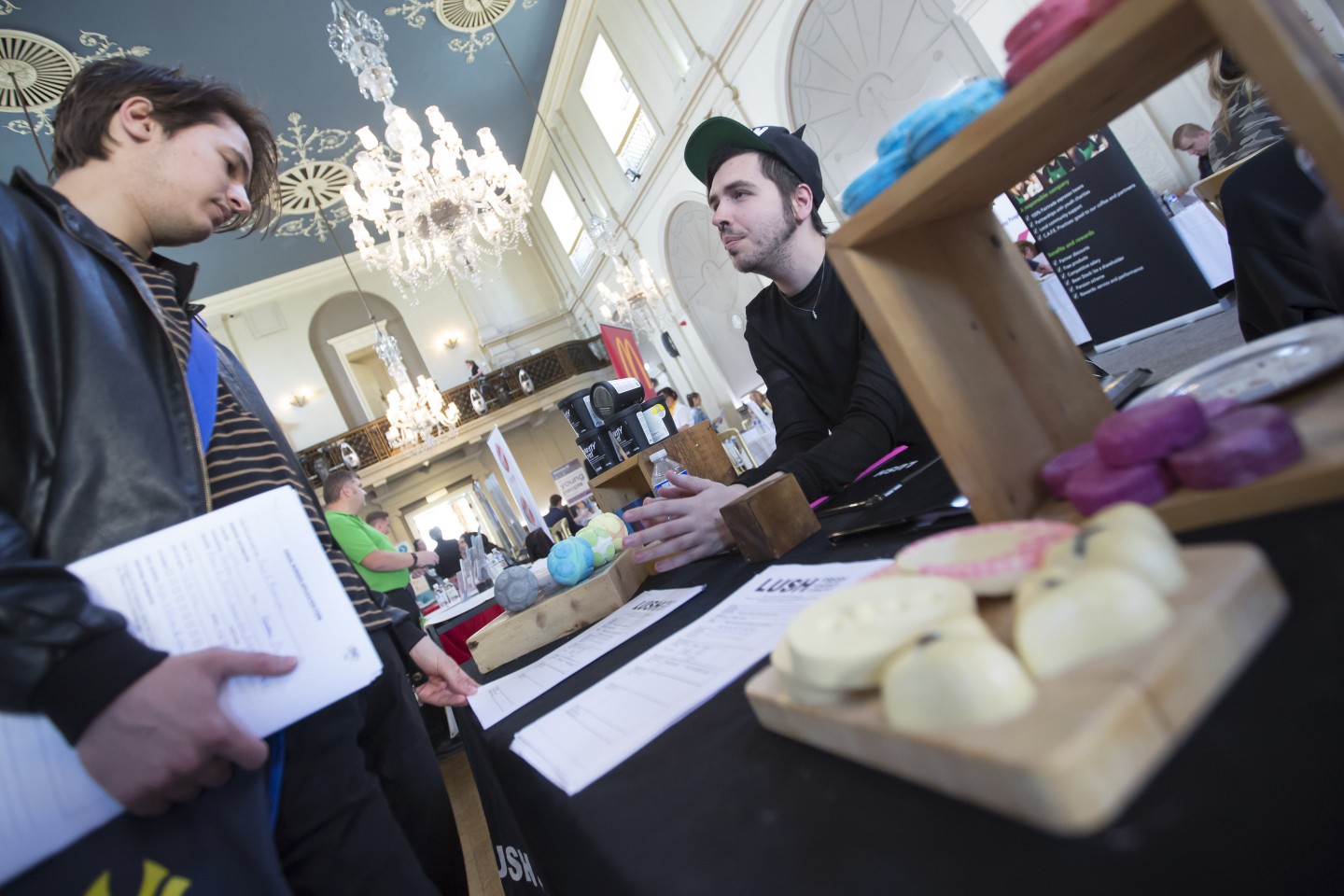 Over 30 stands were in place during the event representing North East businesses and services for people looking for work. Many North East businesses that took part in the event were actively looking to fill vacancies and hire people to fill full and part time roles in new hotels and restaurants across the city, as well as for temporary Christmas employment.
Collectively, the businesses in attendance had hundreds of vacancies to fill and were actively recruiting during the day.
Virgin Money, TK Maxx and Starbucks were among the businesses in attendance. Starbucks even sent 5 recruiters to scout for talent for their Newcastle based stores. TK Maxx also had a big presence, with over 30 Christmas vacancies to fill, the team organised to conduct interviews after the fair inviting candidates spotted during the event.
Mock interview sessions were held during the morning of the event providing candidates with advice and interview skills practice which many went on to use during the afternoon jobs fair.
The Jobs Fair also provided a welcome and almost unique opportunity for people to meet and talk to local employers, as well as to apply for jobs.
Louise Liddle Business Network Manager at NE1 Ltd and joint organiser of the event said:
"It was great to see so many of our business members involved and to meet hundreds of young people eager to get into work. The event provided a rare opportunity for young people to meet and talk to potential employers on neutral ground, as much for them to make choices on the type of business and employer they would like to work for, as for businesses to choose staff."
"At NE1 Ltd we are ideally placed to link businesses with young people through our 1,400 business members and our NE1 CAN initiative. We are hoping to organise more employment fairs in the future."
Stephen Langley, Cluster Manager, Starbucks' Coffee Company said;
"This is the first NE1 and Newcastle City Council jobs fair we have attended and it has given us ready made access to hundreds of potential new employees, so I'm sure it won't be the last. We have a lot of vacancies to fill in our stores for both full and part time baristas and supervisors as the stores get busier and in the run up to Christmas. Being involved in the mock interview skills workshop in the morning and the jobs fair in the afternoon allowed us to talent spot. It is a company priority to employ local young people and we have a strong apprenticeship programme within our stores, especially in the North East. With the help of the fair, we are confident that we will be fully staffed and ready for the Christmas onslaught."
Chelsea Potts, 20 from Deckham in Gateshead took part in the mock interviews and the fair "I had two mock interviews in the morning with Starbucks. They were a great opportunity to help me practice my interview technique. Taking part in the interviews helped me feel more confident so when the Job Fair opened in the afternoon I was able to talk easily to other employers such as TK Maxx and Boots – places where I'd love to work."
Kourtney Gibson, 19 from Hebburn is really keen to start her career in retail, "I had 2 practice interviews with TK Maxx and Game. They were really different types of interviews so it offered a great opportunity to learn and practice. I got some great feedback that I can take on board in readiness for a real interview. The Job Fair itself was brilliant – I didn't realise how many jobs are available in the run up to Christmas. If I can secure a temporary role, it will be an opportunity for me to impress."