Through its flagship Revitalising our Estuaries programme; community and environmental charity Groundwork NE & Cumbria has spearheaded the development of a first of its kind 'floating nature island' to be installed on Newcastle Quayside in July.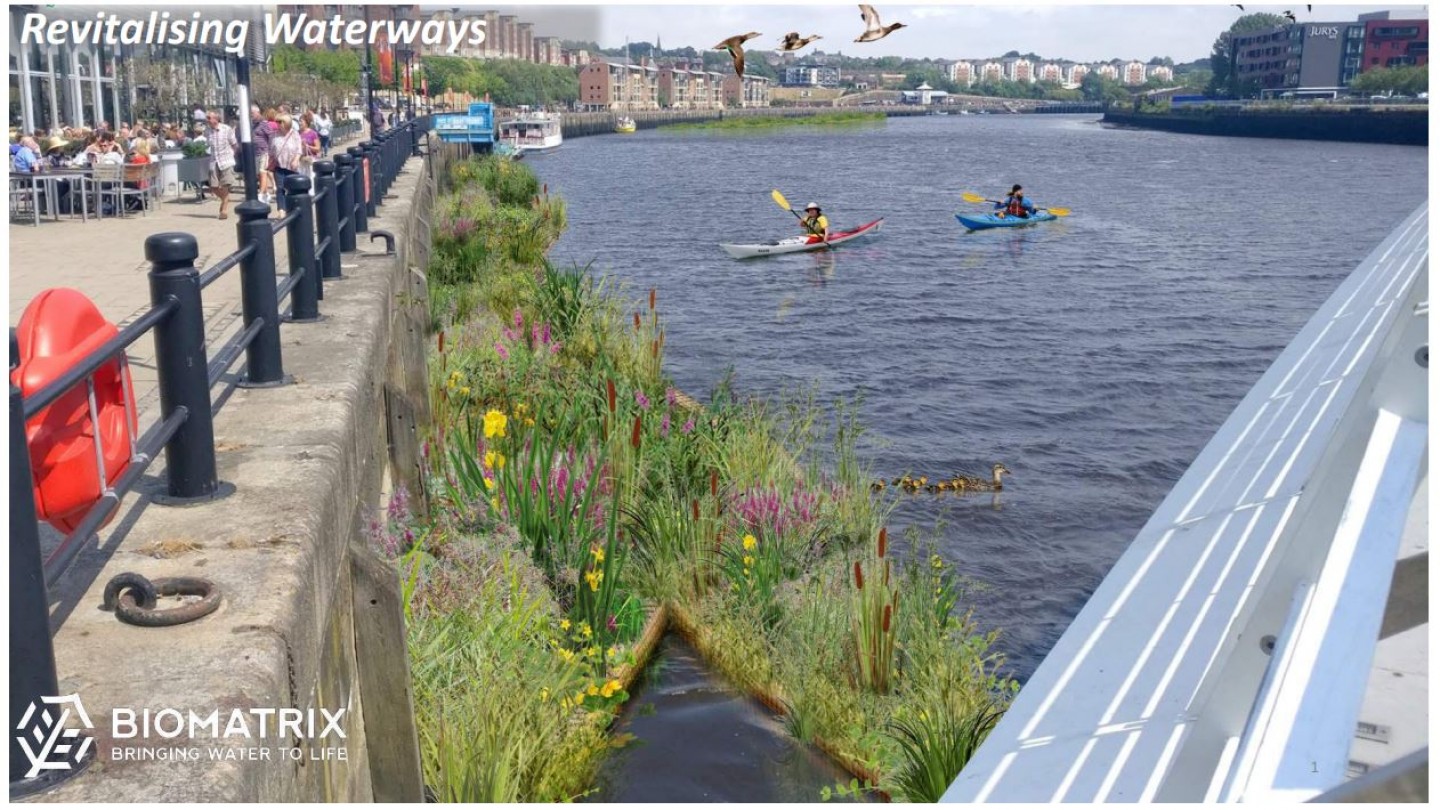 The new 1,000 sq ft ecosystem, which equates to approximately 8 car parking spaces, is designed by Biomatrix Water, and will recreate habitat lost in industrialisation and urban development, improve water quality and green this section of the riverbank, fighting the dual climate and biodiversity crisis. Its innovative design accommodates the huge tidal and flow variations of the River Tyne. As a beautiful addition to the Quayside it will deliver nature-based solutions and Biodiversity Net Gain in Newcastle.
The installation will begin week commencing Monday 11th July 2022 with stakeholder and community events taking place throughout the week.
The new floating nature island will be a vital hub for wildlife such as invertebrates, pollinators, birds, molluscs and fish in an area where natural habitat is under threat from sea level rise. Halophyte (salt tolerant) plant species typical of this estuarine environment will provide a food source for wildlife and opportunities for birds to nest. The ecosystem will also shelter juvenile and migrating fish. Underneath the structure, the roots and fish refugia will create a mini reef system.
The nature island will be monitored by Groundwork NE & Cumbria and the University of Newcastle alongside Trinity College, Dublin who will work in partnership to support ongoing monitoring including ecological, social and economic impact assessment.
The project has community involvement at its heart as the nature island will be built and planted by local volunteers, community groups and schools. Volunteers from Northern Directions—a Groundwork led youth employment programme—will lend a hand, spreading the benefits to people as well as nature. Other community involvement includes educational visits for local schools and citizen science projects using technology such as underwater cameras. The programme also supports employment for young people through the government's Kickstart Scheme, offering new opportunities to enter green jobs.
Supported by the Environment Agency's WEIF programme, NE1, Northumbrian Water, the Green Recovery Challenge Fund and the Caterpillar Foundation; Revitalising our Estuaries (RoE) is a new programme of river estuary restoration, working in partnership using nature-based solutions it will improve sites across all six estuaries in the North East for local people and businesses whilst employing and providing training for 38 local young people.
Hellen Hornby, RoE Project Manager at Groundwork explained:
"Although small this ecosystem is the first of many in a vision to green the Quayside and the wider Tyne Estuary. With existing nature-based solutions installed at Royal Quays Marina, Hebburn in South Tyneside and more to follow in Gateshead and South Tyneside these pockets of nature will collectively provide vital food, resting and shelter for a wide range of important river estuary species."
Nick Schreiner, International Technical Manager at Biomatrix Water, said:
"The floating ecosystem will be the first such installation on a major waterway like the Tyne incorporating a wetland substrate that mimics the natural estuarine environment including clay, silt, and woody debris. This wetland system includes a diverse selection of native aquatic plant species. Its unique engineering supports a high buoyancy and a dynamic tidal anchoring system. This ensures that the ecosystem habitat will be protected from the high current, large debris, and the five metre tidal range experienced on the Tyne."
Rob Carr, Environment Agency's Strategic Partnership Senior Advisor, said:
"The ecological health of our rivers must improve. The pressures from human activity continue at pace, impacting on water quality, habitat and wildlife, yet never before has our connection with the natural environment been so important.
"Newcastle Quayside Floating Ecosystem in the Tyne estuary, which is a ribbon of life that runs through Tyneside, will bring green to the grey urban environment and provide an opportunity for nature to thrive both above and below water. The Environment Agency is pleased to support the Tyne Estuary Partnership projects, which will improve our environment and bring the natural benefits we can all enjoy."
Gaby Mckay-Jones, RoE Research and Monitoring Project Assistant at Groundwork, explained:
"Groundwork, through the Kickstart Scheme, has given me the opportunity to get a full time 'green' job that builds on my degree and progresses my career. The RoE project has allowed me to develop skills that includes the monitoring of nature-based solutions (NBS) that lead to necessary ecological and social changes to our environment. The floating ecosystem is an exciting and unique intervention, my role gives me the opportunity to monitor how this NBS will impact on, not only, the biodiversity gain of the Tyne but also the change in the public's connection to nature."
Paul Ennals, Chair of NEECCo, expressed:
"I'm thrilled to see this world leading naturebased solution being installed in Newcastle; improving our water quality, air quality, fighting climate change and returning nature to the banks of the Tyne once more; inspiring pride of place."
Stephen Thompson, Northumbrian Water Environment Coordinator, commented:
"We are really excited to see the floating ecosystem in place in such a prominent location and to watch as wildlife adopts it as part of their habitat. We are backing the project as part of our ongoing commitment to go above and beyond to deliver and support improvements to accessible areas around water, through our bluespaces initiative. Working in partnership like this, we can help deliver so many more benefits across the region than would be possible on our own, giving even greater enjoyment for those who visit these spaces."
Tariq Albassam, Director of Operations at Newcastle NE1 Ltd, who are partners in the project, said:
"Maximising the opportunities that the River Tyne and the Quayside presents is one of our top strategic priorities at NE1, and we are delighted to have played a part in this pioneering eco-project that will help create new habitats for wildlife in and on the water and bring nature to the city.
We know from our consumer research that greening the city is always a priority, and this is an important first step in softening the boundary between the Quay wall and the river, as well as establishing a precedent and demonstrating our ambition for improvements in the area."
For more information about the Revitalising our Estuaries project please visit: www.groundwork.org.uk/projects/revitalising-our-estuaries