This year when NE1 Quayside Seaside returns to the banks of the Tyne, for the fifth year running, there will be an exciting new addition to the pop up beach. Subject to all the necessary planning permissions, which are still pending, Riley's Fish Shack will take up residence on the beach for the duration of the summer holidays to add a new foodie dimension to the ever popular, NE1 Quayside Seaside.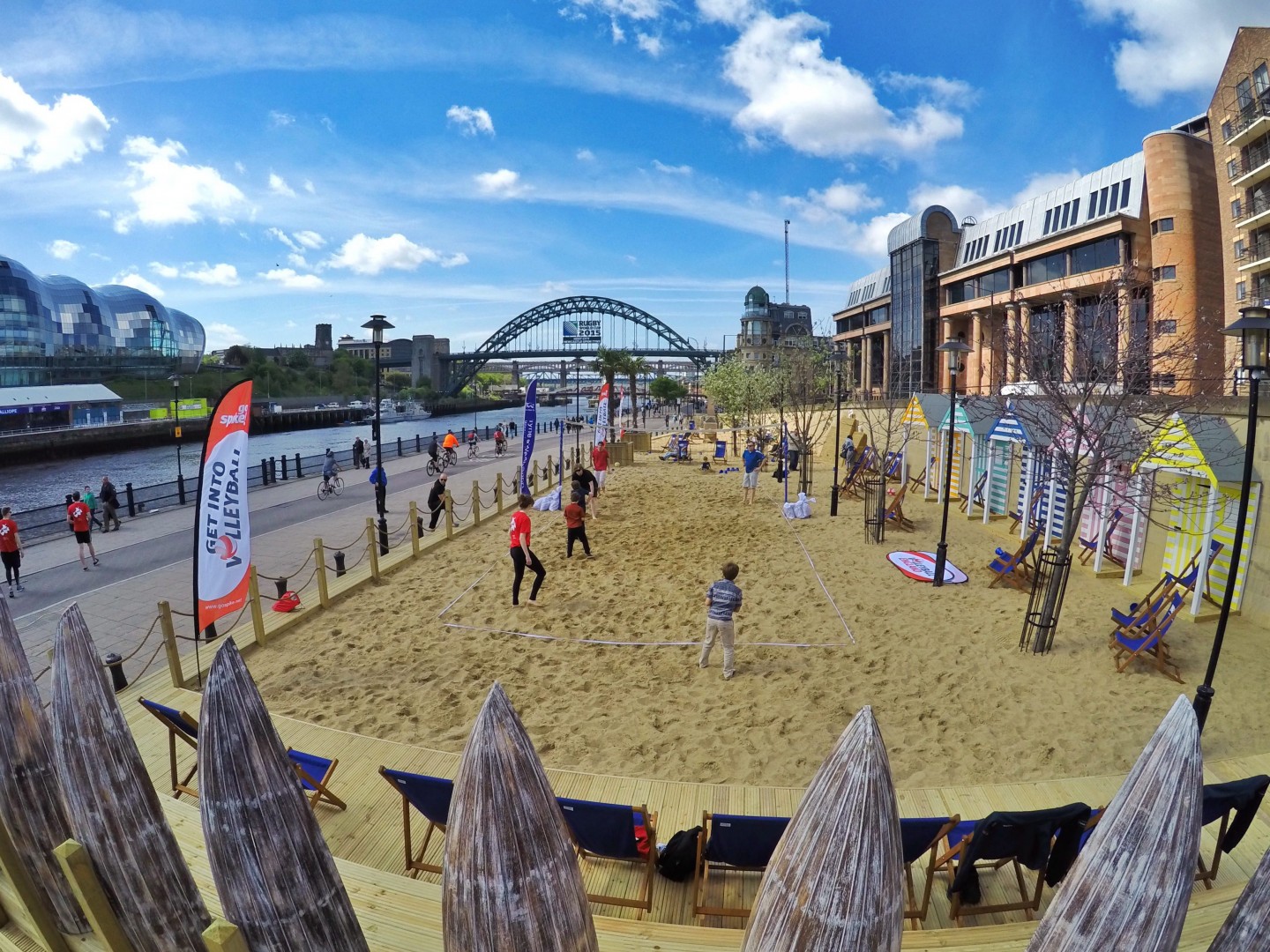 Two converted shipping containers are to be installed alongside the beach to act as a pop up venue for Riley's Fish Shack restaurant, which has earned a loyal following and national critical acclaim for its seafood shack on King Edward's Bay, Tynemouth.
Riley's at NE1 Quayside Seaside will operate on the same lines as its Tynemouth outlet selling breakfast, lunch and evening meals, and will offer their popular takeaway menu of grilled seafood wraps, stone fired flat breads and barbecued lobster – an ever changing menu depending on the catch of the day.
NE1 has been working with Riley's founder, Adam Riley who has applied for a premises license, which would allow the 'tackle box' restaurant to open alongside NE1 Quayside Seaside during the summer.
Another exciting dimension to the new NE1 Quayside Seaside restaurant is Riley's idea to offer a rotating kitchen, allowing other small North East food businesses to have the chance to showcase their foodie talents at the venue.
By combining a pop up restaurant with the pop up beach, NE1 hopes will create a destination that could be used for various events.
Adam Riley, explained:
"Riley's Fish Shack on NE1 Quayside Seaside is a beautiful fit. We're still in the planning stage awaiting necessary permissions but we're really excited, it is a great location and we're synonymous with the beach – even if it is only temporary. We love the idea of serving the same kind of food we're known for on NE1's pop up beach on the Quayside.
"We are also keen to let other start ups have a chance by exploring a rotating kitchen idea, handing over the reigns to other street food vendors."
Adam, co-hosts the food, drink and live entertainment Boiler Shop Steamer event in Newcastle's Stephenson Works with Matt Boyle of Wylam Brewery.
As well as the welcome new addition of the fish shack restaurant, NE1 Quayside Seaside will offer all the old favourite elements that have made the pop up beach such a welcome fixture on the Quayside over the past five years. This year, NE1 will be on site from 27 April and the diggers will be out on 3 May building the pop up beach, which will be officially open to the public from Saturday 14 May.
Equipped with sand, palm trees and volleyball court, NE1 Quayside Seaside is hugely popular with visitors to Newcastle and with Quayside workers and families who congregate on NE1 deck chairs to enjoy lunch al fresco, a sneaky game of volleyball, or to build sandcastles.
Returning this summer are the traditional beach deck chairs, fixed chairs and barrel tables, the kids' climbing wall together with the five beach huts in candy stripes which will be reinstated along the back wall.
Commenting on NE1 Quayside Seaside, Tariq Albassam, Operations Manager at NE1 Ltd said:
"Newcastle loves NE1 Quayside Seaside. Each year, we get so many calls asking when the pop up beach will return, we're delighted to say that it will be back on 14 May and will remain in place until October. We wanted to add a new food dimension to the beach so have teamed up with Riley's Fish Shack which is such a great fit for the beach. Subject to planning permissions we hope the restaurant will be open when NE1 Quayside Seaside opens in mid-May.""The idea for NE1's Quayside Seaside is to give people more reasons to visit Newcastle and to stay a little longer – we have a wonderful Quayside with iconic and breathtaking views and NE1's pop up beach provides a fantastic vantage point to enjoy them both as well as providing a volleyball court for people of all ages to have a go and for kids to play with buckets and spades on the sand all for free."
A timetable of all activities on NE1 Quayside Seaside throughout the summer will be published on www.getintonewcastle.co.uk