Blackett Street in Newcastle will be unrecognisable for 10 weekends of the summer – 6 of those weekends will see the street transformed by NE1 from a busy bus route into a pedestrian only, family park and playground, equipped with artificial grass, seating, fairground rides and large outdoor games.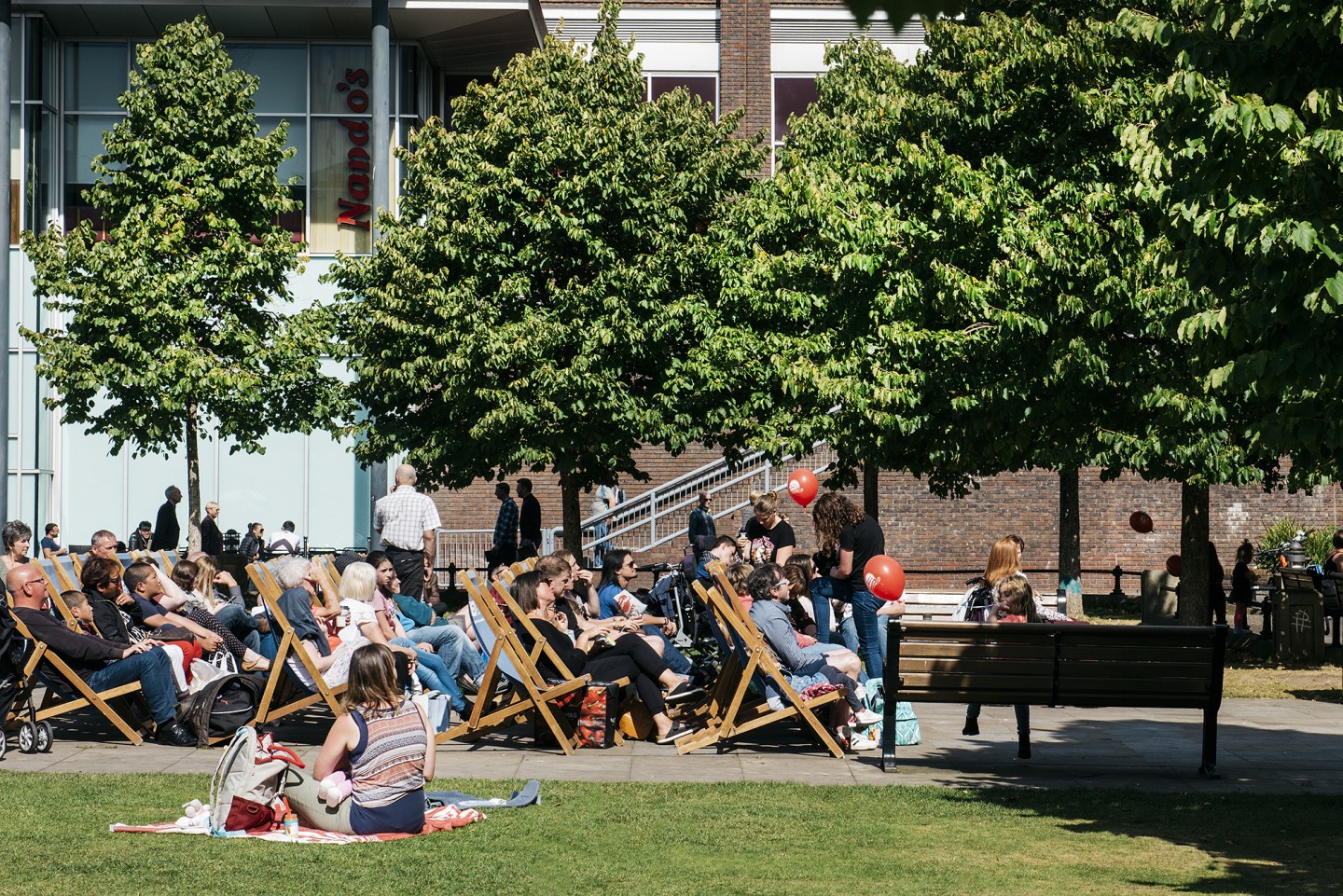 NE1 Ltd, the company behind other transformational events and activities in the city centre including Newcastle's Alive after Five programme, Quayside Seaside, Restaurant Week and the Newcastle Motor Show, has devised the Blackett Street programme as part of its on-going commitment to greening the city and delivering a family focussed summer events programme, especially during the school holidays. Blackett Street was an obvious target for the summer time activity during the Great Exhibition of the North as it is central to Newcastle's bustling retail and leisure district and for 10 weekends will be closed to vehicles, to create a fun environment in the heart of the city centre for family days out.
To create a park-like feel, artificial grass will be laid over 1000sqm of road from Old Eldon Square to Pilgrim Street for the duration of the weekends. Accompanying the artificial grass will be 9 trees running along the north side of Blackett Street creating an avenue of trees from Old Eldon Square to Northumberland Street.
A range of quirky outdoor seating will be placed along the length of the astro-turfed strip including large bean bags, mini deck chairs for children and an artificial grass sofa. The aim is to create distinct zones for adults and children to enjoy
Fairground rides will be installed to the West of Blackett Street, adjacent to Old Eldon Square, including rides to cater for children and adults. There will also be large games for everyone to play free of charge including giant Jenga, Connect 4 and other popular activities.
Adrian Waddell, Chief Executive of NE1 Ltd said:
"The need for evolution and change is a constant for successful cities. We've been interested in a different role for Blackett Street for some time and the Great Exhibition of the North has provided the perfect opportunity to test out what would happen if the street was pedestrianised, on a temporary basis. There is so much going on in Newcastle this summer including with NE1's biggest ever Newcastle Motor Show, Screen on the Green and now the transformation of a busy bus route into clean, green, airy and fun place for families over Summer weekends. We want to make sure the city's public realm matches its exceptional architecture, award winning bars, restaurants and retail offer. Newcastle, like other major European regional capital cities, is under intense pressure to provide more green space and create a better experience for those that live, work and visit the city. Newcastle's summer events programme is the biggest and best yet. We are delighted to be playing our part in making our wonderful city even better this summer."
Cllr Arlene Ainsley, cabinet member for transport and air quality at Newcastle City Council, said: "The Great Exhibition of the North is expected to bring thousands of visitors to Newcastle and Gateshead this summer and we want them to experience our city at its finest. That's why we're closing Blackett Street to traffic on 10 weekends to create a welcoming, people-friendly area in the heart of the city.
"A variety of events will be taking place during these weekends and we hope families from across the city as well as visitors will have fun spending time here, taking part in activities, soaking up the atmosphere and – we hope – enjoying the summer sunshine."
Calendar of dates for closure and events programme.
Family Fun weekends will take part on the dates below, with other NE1 events such including the Newcastle Motor Show planned for other weekends.
30 Jun & 1 Jul
7 Jul & 8 Jul
14 Jul & 15 Jul
11 Aug & 12 Aug
18 & 19 Aug
1 Sept & 2 Sept