As if exhibiting some of the world's most exclusive, expensive and rare cars on the streets of Newcastle wasn't enough – NE1 Newcastle Motor Show will be extending its free Fan Zone area making the weekend event, a truly family fun extravaganza. The two-day event on 4 and 5 August will take over most of Newcastle city centre with something for everyone to enjoy, a highlight being the intu Eldon Square Fan Zone which will return to Old Eldon Square for the duration of the event.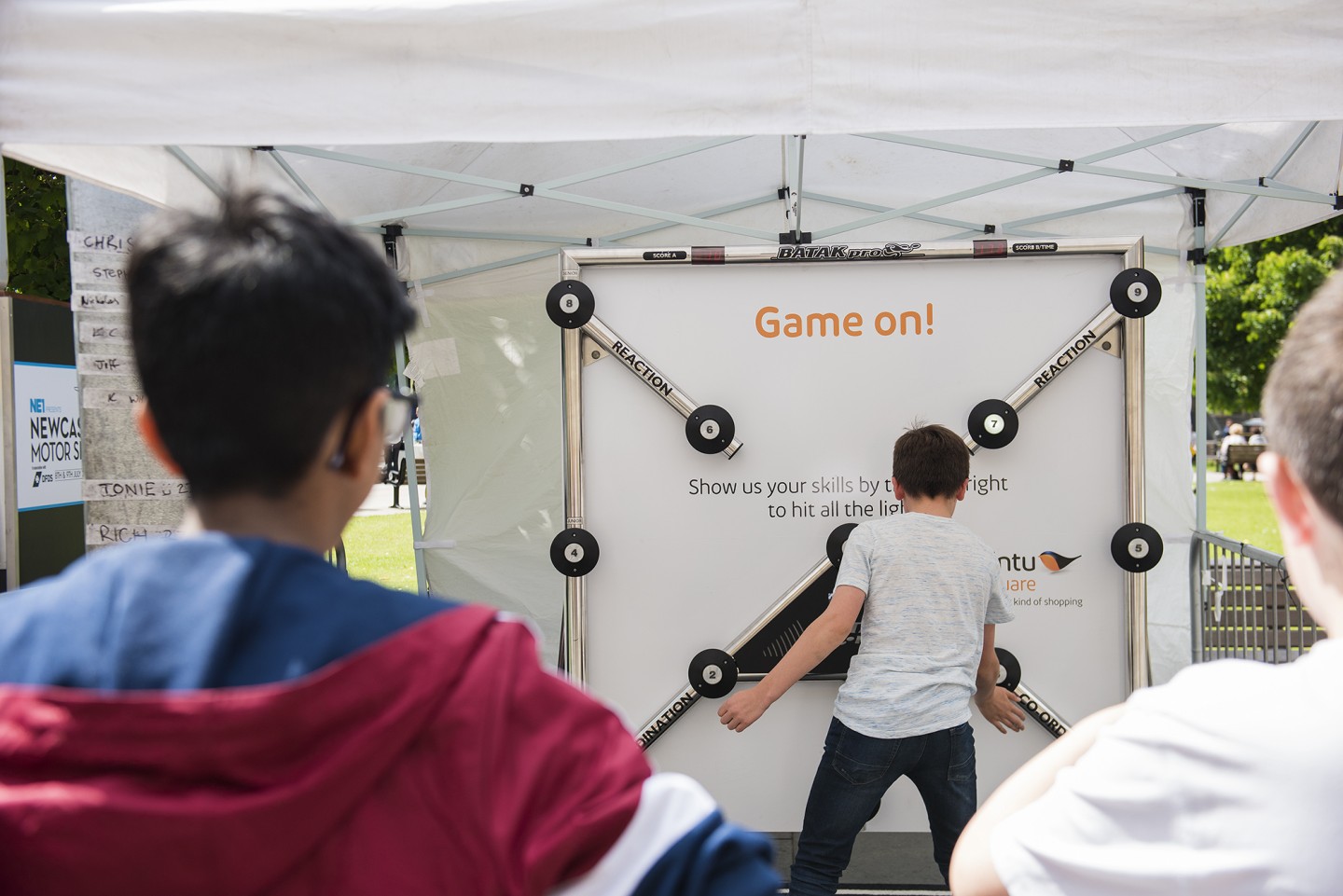 intu Eldon Square has returned as sponsors for the second year running after the phenomenal success of the Fan Zone last year.
Old Eldon Square will be devoted to fun with free activities, games and things to do for young and old alike making the NE1 Newcastle Motor Show a truly family affair. The Fan Zone will be bigger and better this year as it extends into the newly pedestrianised area of Blackett Street, which is being closed temporarily to buses over 11 weekends during the summer. This newly extended Fan Zone will house among other activities a new addition, Bumper Carz, inflatable dodgems.
Many of the other popular activities that made the Fan Zone such a huge success during last year's event are returning including the Batak reaction tester game. Players are challenged to test their reactions, strive for the highest score and beat their opponents in this fast paced reaction game.
Another popular game, the giant spark plug steady-hand challenge, will also return with prizes galore for players who complete the challenge in the fastest time.
In keeping with the weekend's motor show theme, NE1's Screen on the Green positioned on Old Eldon Square will be showing two films from Pixars' popular 'Cars' trilogy, and the most famous vehicles of all, Transformers, will be taking over the screen during the weekend.
Retailer Game will also be taking part in the festivities bringing computer games to the Fan Zone for the public to enjoy. The games will be plugged into the big screen between film screenings with players able to challenge one another on Mario Kart and other car based games.
The Fan Zone will also be a culinary delight as some of intu Eldon Square's finest foodie outlets will be at Old Eldon Square offering tasting and food sampling over the course of the weekend.

Ben Whitfield, Marketing and Events Manager at NE1 Ltd, and organiser of the NE1 Newcastle Motor Show event said:
"We are delighted that intu Eldon Square are on board for the second year running - they add a fantastic, fun dimension to the weekend's proceedings with games and give-aways with a motoring theme and fantastic food sampling, which all helps to give the NE1 Newcastle's Motor Show its unique flavour. My personal highlights will be seeing if my reactions have sped up since last year and challenging my friends on the big screen at Old Eldon Square thanks to Game's Super Mario Kart challenge."
Vikki Mather, acting marketing manager at intu Eldon Square, said:
"We're delighted to sponsor the NE1 Motor Show Fan Zone again - in 2017 it was a hive of activity and this year promises to be bigger and better than ever. Whether visitors are enjoying the array of interactive games, having fun on our inflatable dodgems, trying their hand at the mechanical challenges or taking time out to refuel with some tasty treats courtesy of our delicious restaurants, our Fan Zone is the perfect pit stop to soak up the high-octane atmosphere!
"At intu, we're passionate about delivering compelling events that guarantee amazing days out and our Family Club offers fun, free activities for families to enjoy all year round. We also recognise it's especially important to offer fun family days out during the summer holiday period, when families spend extended time together, making memories."